ah, it's been too long.
and thus I am sure that this post will be a random smattering of our life lately.
Part of our radio silence has been due to the fact that my computer crashed beyond repair and so we have been trying to operate with one for a couple months now.  Chris and I share a lot of things well, but we have come to find out that a computer is not one of them.   🙂  And so when it is my turn, emails and expense reports and treasurer duties take priority and our little blog has been pushed to the back burner.  My apologies.
The good news!  My mom and dad are going to be here in just 3 more sleeps with a new computer in tow!  Horary!
Over and over again this fall, I have found myself grateful for the feeling of settledness that this season has brought.  Last year as we started school and entered the holiday season, everything was still new and in many ways it felt like we were in a perpetual Advent season.  Waiting to feel at home.  Waiting to figure out which new acquientenes would become friends.  Waiting for the Spanish to flow more easily.  Waiting to figure out which purchases are best made at the market and which are best made at the grocery store.  Waiting to find the necessary items we were still looking for to make our house a home.  Waiting to see what new routines and rhythms would make sense in this new season.  Waiting to discover where our spot would be in partnership with IPEE.
There are still unknowns and still times when it feels like we have just arrived and have more questions than answers, but this fall has had a completely different feel than the one previous.  Our kids started school knowing who they would sit by at lunch.  I know that the bulk flour that I can buy at Santa Maria is by far the best deal around.  Chris is regularly headed into meetings with a committee of people that he has worked with now for a number of months.  All seemingly small details.   But the comfort found in these small details of our days has made a world of difference.
The fall has been full of teaching and meetings and emails and preaching and fundraising and hosting and it is hard to believe at times that we are nearing the end of 2017 and a year and a half of life and ministry here in Ecuador.  Even in the midst of feeling more at home and more settled this Advent season, we are continuing to learn to make space for and learn from the waiting. For it is in the waiting,  in the here-and-not-yet, that most of our journey with Christ plays out.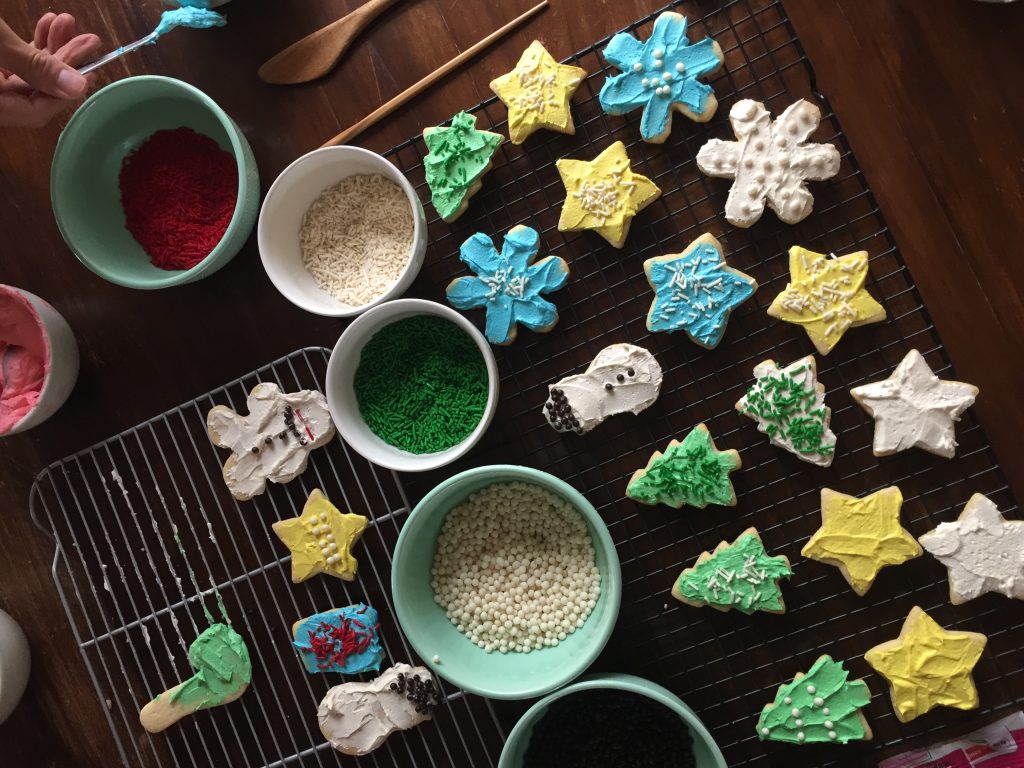 We have decorated our tree and baked cookies.  We share together an Advent liturgy around the table and gathered to watch our daughter perform in the Nativity production at her school.  We are wrapping gifts and watching all of our favorite holiday movies.  All the "normal" Christmas stuff.  But I also watch my kids run out into the backyard with bare toes and t-shirts to play.  I hang laundry in the sun to dry.  We cut the lawn.  Even in the comfort, I'm still getting used to parts of this season that just don't quite fit for me and I'm learning to change my reality.
And may that continue to be our prayer – that Christ would come this season, bringing comfort and joy, but that He would also come into our lives and challenge our thinking.  That He would re-shape our realities.  That He would give us greater imagination to work towards His kingdom even while we wait in the here-and-not-yet.