This Saturday started out like most others at our house.  Chris woke up early to head out to play soccer with his pick-up league.  My son frantically asked about breakfast and chores so he could get to his long awaited Saturday morning Minecraft and the littlest one is crafting her arguments so that she can stay in jammies all day.  There is laundry to be done and a t-ball game to head to this afternoon as long as the rain stays away.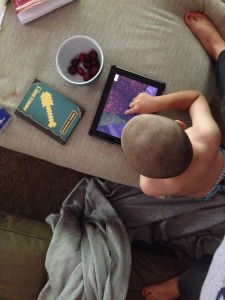 But as I sit here this morning making my to-do list and drinking my coffee, I am well aware that this Saturday is also a little different.  I realized this week that we will be home only one other Saturday from now until August 29 (and that one Saturday barely counts as being home because we will be in classes and meetings all day during a missionary training event taking place here in Chicago).
This summer is going to be full of long hours in the car and sweet time with old friends and new connections.  We will travel to family reunions and church communities and weddings and a commissioning service to be sent out by the church.  A blend of support raising and the beginning of what Chris is calling our "Farewell Tour" as we grow closer to our move back to Ecuador.
So we invite you to pray with and for us during this season in which these sweet and slow Saturdays at home will be absent.  Prayers for traveling mercies and health and good driving weather.  Prayers for content kids in the car and for extra patience when the contentment wears off.  Prayers for great connections and curiosity about the ways in which God is moving in corners of the world that seem far off.  Prayers for the making of dear memories with cousins that will be missed and moments of rest.  Prayers for remaining present in all of these moments that we will never get back in the midst of much to be done and often feeling like I am not doing enough.
Tomorrow morning it all begins.  Chris and the little one head to Ohio to share at a VBS about God's mission in the world and the ways he is inviting all of us to participate.  Tomorrow kicks off the craziness.  But in the midst of packing and cleaning and last minute details to be pulled together, I am also going to try sit and drink my coffee and be present in this last sweet Saturday at home.