Tucked within the balmy tropics of Yaounde, Cameroon, is a hostel full of students in need of "hostel parents!" Whether you're interested in going or desire to partner with us in prayer, read this plea from missionaries Ron & Janet Ziegelbaur: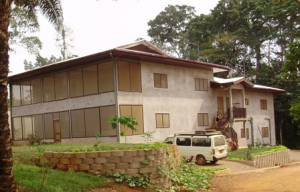 " For the August 2014 – June 2015 school year, we don't have hostel parents!  The hostel, a joint ministry of the Evangelical Covenant and Evangelical Free Church missions, is home away from home for up to 12 middle school and high school students of Rain Forest International School.  For the past few years we have been blessed to have parents of hostel residents serve the role of parents for UBAC Hostel.  But so far, next year the hostel is without parents.  
Please join us in prayer that God will call parents to serve at the UBAC Hostel next school year.  In order for the hostel (1 of 3 serving RFIS students) to remain open next year, hostel parents need to be in Yaounde by mid- July.
 Responsibilities include:
Supervision of the house (staff of 3 to assist with cooking, cleaning and yard work)
Help students with homework, nightly devotions
Weekly grocery shopping in beautiful downtown Yaounde
Driving students to church, sports events, etc.
Keep parents of the hostel students informed of activities
Report to the Hostel committee (who are not hostile)
Plan fun events and a weekend outing or 2
Love, encourage, disciple, & listen to some of the greatest teenagers you'll ever know! 
 Please pray with us that God will provide parents for UBAC Hostel so our students will be able to return to their home away from home at school next year!
In His service, Ron & Janet Ziegelbaur"
If you're interested in serving as UBAC Hostel parents, contact Ron & Janet at ron-janet.ziegelbaur@covchurch.org or Lana Heinrich (Covenant Short Term Missions) at lana.heinrich@covchurch.org.