Sometimes life is hard. It just is.  But there is also a cure for this given in the Bible.  It says in Proverbs 17:22,
A merry heart doeth good like a medicine  

 
There is also a saying that says "laugh until it hurts".  I experienced that last Saturday night while attending the RFIS drama productions  of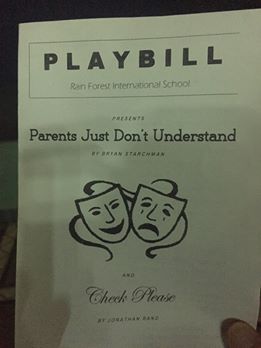 Parents Just Don't Understand and Check Please
A few weeks back I injured some muscles or cartilage around my ribs.  And I discovered how possible it is to laugh until it hurts.  I could not stop laughing and even though I was in pain – I just had to laugh.  Our students did a fantastic job of presenting these dramas and even through the pain I found that some of the burdens of doing life were lifted.
It is a good reminder to me that when life is hard (which it will be from time to time), we have been given the way to endure ;
Laugh, just laugh.