What a celebration the CEUM, community and government had earlier this week at the dedication of the Makanza bridge at Boyambi, 27 kms East of Gemena.  Together we celebrated how all can work together with a US partner to complete an important project.  The project was to replace the broken and eroding culverts at the Makanza stream with a new bridge.
Financing for the project was given by Hope International Development Agency.  Paul Carlson Partnership (PCP) was key in supporting Hope's involvement.  The government helped with providing some of the rock and gravel needed, the local community provided some labor and the CEUM was the intermediary with all the partners.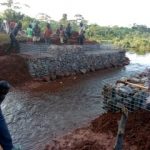 Tuesday's celebration was attended by:  the Governor of the Sud-Ubangi province, Joachim TAILA Nage, and all of his newly selected ministers, the Chef de Secteur, all the nearby Chef de Groupements wearing their traditional headcoverings which symbolize their local authority, the CEUM leadership plus school groups and many more.  LOTS of people.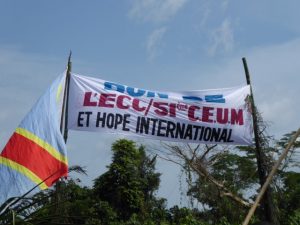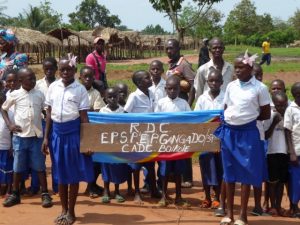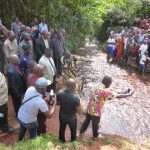 Some background about project came out in the Governor's and President Mboka's remarks.  The vision for repairing/replacing bridges started with President Sanguma at the end of his second term.  In late 2011 or early 2012 a CEUM truck carrying medicines donated by Hope was headed from Karawa to Loko and Wasolo when it overturned trying to cross the Lumba bridge 12 kms East of Karawa.  Two women were killed and lots of medicine destroyed.  After this accident President Sanguma said that the CEUM needs to do something to repair these bridges.  The speakers commented that there would have been no celebration today without an initiator.  Next President Mboka picked up the mantle and carried it forward.   In response to President Sanguma's request PCP and Hope made connected with an engineer Tom Lawson who designed this simple mass density structure bridge.  Hope shipped out the first supplies, the gabions and huge bolts, and then Tom came out to teach Jose KD Zongalinga, a CEUM engineer, how to build the bridges.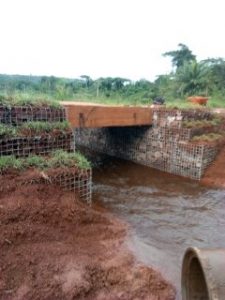 To date 12 bridges have been replaced on key roads in the area, 3 on the road between Gemena and Karawa and 3 on the main road East of Karawa.  The CEUM would like to open up more key interior roads with these bridges.  President Mboka would like to see the road between Bogose-Nubea and Karawa opened.  This requires working on a long series of 12 bridges of various sizes.