April 28-May 1 the current Congo missionary team plus recent retirees Keith & Florence Gustafson gathered in a beautiful 8 BR home 10 miles from Gatlinburg, TN for a time of reflection and celebration of God's work and blessings over our careers.  Attending were: Roy & Aleta Danforth, Tim & Helen Smith, Pete & Cindy Ekstrand, Paul & Sheryl Noren, Marta Klein, David & Celia Stockamp and Craig Wickstrom.  Our histories together date as far back as 1976 when Craig & Paul were serving in Congo and Helen arrived and as recent as 2010 when Marta joined the Congo team.  Our lives and ministries in Congo had us doing almost everything together:  daily life and ministry, travels, vacations, celebrating births & birthdays, recreation, worship, discipleship and more.  Sharing this much life with each other brought us together as family, as a community that trusted, supported, believed in, forgave and loved each other.  The sharing at this retreat included tears of joy & sorrow along with howls of laughter as we shared stories and memories over decades of life together along with laughter while playing games.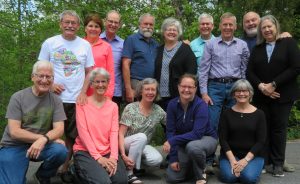 Retiring this year are the Ekstrands, Danforths and Smiths.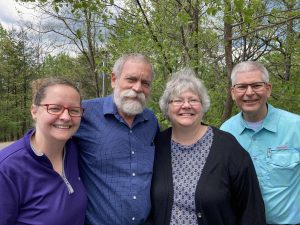 Marta, Paul & Sheryl and Craig will continue to serve in Congo.
Keith & Florence retired two years ago and David will continue to serve as an advisor to the CEUM and continuing pastoral education team.
Each also person shared current and future plans, prayer requests and was prayed for.


As seen below, the Smokys were a beautiful setting for our retreat.