We went to a funeral at Karawa last week.  It was a heartbreaking one for Lingawe Sarah Singa, a 19 year old junior in the nutrition section at Lycee Vanette, the girls' HS at Karawa, had died after being sick for only about a month.  The testimonies from the HS chaplain, school principal, family and more were powerful.  They spoke of her strong Christian testimony and leadership.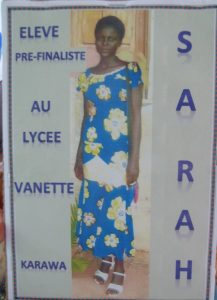 As I sat there listening to the mourning (hysterical at times by fellow students), singing the hymns during the service and observing people as they sang I was struck by the importance of repetition of familiar words at these times.  At every funeral I've attended in Congo 2 songs are always sung, sometimes both during the service and at the graveside.  They are roughly to the tunes of "Auld Lang Syne" and "When the Saints Go Marching In", but the Lingala words are different.
To "When the Saints Go Marching In"
Ngai natomboli na mawa (I am walking in sadness)
Na natamboli na nse (I am walking here on earth)
Nakobelema na lola (I will come close to heaven)
Biso tokosepela  (We will be happy)

Na Babulami yonso (All those washed in His blood)
Tokokota la lola (We will enter heaven)
Nalingi kojala kuna (I want to be there)
Kati na Babulami (Amongst those washed in His blood)

I will see Jesus there, He saved me.
He will welcome me well.  We will be happy.
Brothers/Sisters who went before, they also believed in Jesus,
They will welcome me there.  We will be happy.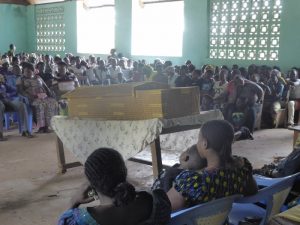 As these songs are sung you can see people hanging onto the words.
Words of hope.
Words of promise.
Words of faith by a believing people
Words of a better place.
Words of assurance.
Words that calm the soul, calm the grief which surpasses us.
They are critical words in times of loss and grief.
And I think of the importance of learning such songs by heart, of having such words imprinted on our hearts, souls and minds such that we have them to cling to at these times.  For me I go back to "Great is Thy Faithfulness", What A Friend We Have in Jesus", "Living for Jesus", "Majesty", "How Great Thou Art" and more.