Our travels from Cameroon to South Africa went quite smoothly, well, except for a couple of hiccups at the Yaounde airport.  They called us to open our luggage way back in the bowels of the airport, after we had checked them in and received our boarding passes.  I went alone because Roy can't move very fast right now with his hip problem, leaving him to wonder what was happening to me and our baggage.  The airport security people couldn't figure out on their xray scanner what a couple of things were in 2 of our 4 bags.  I had to cut through the shrink wrap encasing the bags, and open them up, only to show them a countersink drill bit, a small ratchet set, and a drill bit set in one suitcase, and a pressure cooker in the other.  Not your normal baggage contents, it's no wonder they were a bit confused.  I locked the bags back up and a man bagged and taped them – the replacement for the shrink wrap that was the only thing available back there.  I got back to Roy ½ hour later, he having sprouted a few more gray hairs in my absence, worrying and praying.  We then went to the airlines office to wait for a wheelchair and escort so Roy wouldn't have to hobble up the stairs and walk the long hallways.  As the hour for boarding approached, we started getting a bit antsy and one of the office agents volunteered to take us (ie not his normal job).  The elevator and escalator on the boarding gate side of the airport were broken, so we took the functional elevator on the other side.  Once on the 2nd floor, our helper tried to take us through security, but ended up in a shouting match with the woman at that entry.  VIP's and staff ONLY!!!  He left us to get special permission and was gone quite a while, so we took off back down the elevator, across the airport, and up the stairs.  Poor Roy!  That was Cameroon.  After that, it was all smiles and prompt service and helpful people and whisking through to the front of the lines with the agent pushing the wheelchair.  Smooth sailing and each one behind the wheelchairs refused a tip, with a gracious smile, saying "it's my job, take care and have a lovely day".  We arrived in good shape to Durban, to be welcomed by our dear friend Lynn B, the most servant hearted person I know.  That was Wednesday to Thursday.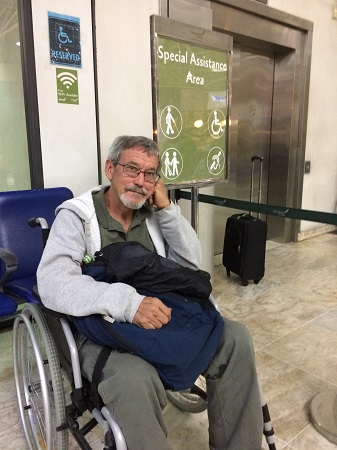 Friday Roy had a doctor's appointment and we all breathed a huge sigh of relief and thanks when we learned that he has bursitis, treatable and curable probably within 6 weeks' time.  No surgery.  No forever arthritis diagnosis.  We are thankful.  It's rough going for Roy, probably the having to take it super easy more so than the pain.  He has been instructed to walk at half his normal speed and to try not to use that hip joint more than absolutely necessary.  That sure hasn't stopped him from sitting in the nursery getting all his plants and seeds into bags.
We thank you for your prayers for Roy and for our travels. God has been/is/will always be good!