While Roy was at the CWR meeting in Pietermaritzburg, I was enjoying being with Sam, Anna, Elaina, and Sawyer, as well as Lynn & Gary B and many other friends!  My arrival was a surprise to many, and the reactions were varied.  I got tears, smiles, and hugs along with "oh, you are too naughty" from my buddy Lynn when she came to the airport with Gary to pick up a "business associate".  We arrived at the farm just as it got dark, so I went around to the back door, which is glass and was locked, and I knocked.  I heard Anna (who knew it was me) tell Elaina to go see who was there.  Elaina saw me, got all excited and ran to tell her mom "Mama!! Gramdee is here!!!!", leaving me locked outside.  It was such a fun 2.5 weeks.  Roy missed a few things, like the kids' school's Africa day talent show.  Elaina did a superb Rumpelstiltskin adventure monologue that she had written, and Sawyer recited a poem with his friend, Dhilan. Both of the kids also played in the marimba bands.
Roy joined us after his conference and Leanne and Timote Turk also flew down from CAR, because Timote needed to have the pins in his shoulder removed at the hospital he had had shoulder surgery at 6 weeks ago.  His shoulder is going to be back to normal soon, after he follows through with his physical therapy exercises.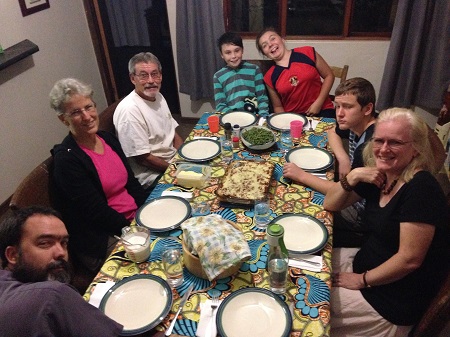 We were a very full house for awhile!  Lots of fun and blessings!!