We have waited a long, long time for these meds to arrive via ocean freight container.  Thankful that the main pharmacy stock is almost up to par again.   There is a back order and we would ask prayer for that container which should leave Holland sometime soon.
This is the container, having arrived in Douala months ago but held up by paperwork.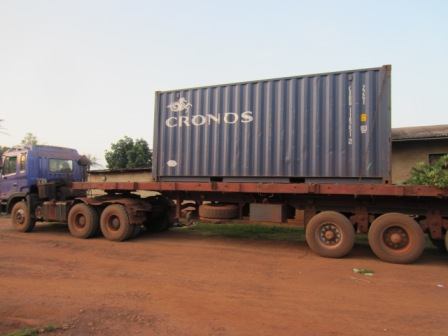 Here we are checking our list to make sure the boxes all were there.  I have never seen a container unloaded so fast!   Of course it wasn't even close to being full, but it only took 45 minutes from the cutting of the customs lock/official seal to the closing of the container door again.  Did I mention that we handled this container unpacking right in the midst of the wedding/graduation weekend of busy times?
Here's the smile we like to see on our main pharmacy manager's face when he doesn't have to tell the doctors and nurses, "sorry, we're out of that!"!