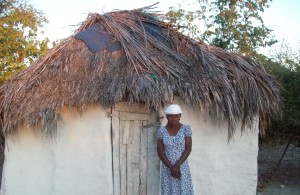 Mache Kabrit, Haiti is a desolate place. It is located on the southern coast near the town of Côte-de-Fer, a remote place itself that has gotten some notoriety recently because it is the home of the current president of Haiti. All you see around Mache Kabrit is barren land. The ocean is beautiful but there is no source of fresh water. There was no resident community leader until Eventuel relocated there a little over a year ago. His presence in the community has brought a spark of hope to the residents.
The Pathway to a Better Life project, which was formally introduced a little over three months ago, has really touched a chord in the community with both the current participants and those who would like to be included in the program. This program is unique in that it works with those who have lived in abject poverty and for whom traditional development programs have not been successful. One of the participants in the program is a woman named Gernicia Jean. Looking at her, you would think she was nearing a hundred when she is only fifty years old. She has known poverty all her life. She has given birth to five children who are not in any better situation than she is. The prospect of finding a pathway to a better life has sparked a glimmer of hope in her. She is actually the talk of the community. Most people had given up on her, but now the first steps toward improvement are taking place. She now has a latrine as a first step forward. Those with a little bit of means do not generally invest in such a hygienic addition. She has been receiving some funds for food and will soon begin training on how to start a small business. The community relies on unreliable sources of water, so every participant in the program has received a five-gallon bucket with a filtration system.
Over the next couple of months Gernicia Jean and the rest of the participants in this program will launch their small businesses This second phase should be of great benefit not only to the participants, but also to the entire community. Their homes will get a makeover through some of the income they generate in their business and some assistance from the program.