This post originally appeared in a ACT for Congo newsletter, a partner of CWR.
You may be overwhelmed by information on your devices today, but many people around the globe are still without access to many sources of information. How to decide what is true? Others don't bother to search or question what they hear or read. That's why our partner, HOLD, in DRCongo is teaching young teen moms and single mothers how diseases are spread, how reproductive systems and health works, what the Congolese constitution says about rape, about inheritance, about rights—in addition to their vocational skills which will help them support themselves… The beneficiaries of its program are teaching their family members, neighbors and fellow citizens, too, how to advocate, to be responsible citizens, and better parents, neighbors. They do this in order to change the practices like the ones that keep teen moms excluded and stigmatized. Or cultural expectations that allow impunity for rape, theft, or control of power. HOLD's beneficiaries and alumni are practicing self-government in their Human Development Clubs and Association by electing their own representatives, and expecting them to work on their behalf. This is on the local level. Thanks to you, 897 have already graduated, and a new cohort of 80 women (60% are teen moms) began their training in July. 578 women and girls applied.

In Congo, as in the US, it's election season. Or should be, according to their constitution. After 40 years of military dictatorship and a series of civil and regional wars, the people of Congo through their elected representatives wrote a new constitution in 2006 that addressed term limits for the presidency, penalties for rape, instituted the right of inheritance for women and children. Unfortunately too many of the population don't know about it, and many officials don't want them to. But there is a new generation of youth who won't be silenced by beatings, bullets and prison.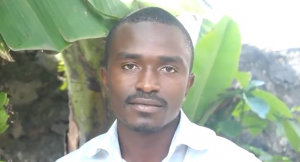 Meet Fred Bauma. He will be coming to Seattle for the iLEAP Fellowship in October. He has been vitally involved in the nonviolent movement for change in Congo, with LUCHA and Micheline Mwendike, and has paid dearly for it. He is committed to change that will come, and he knows it is not easy. We are glad he will have the opportunity this fall to reflect on leadership and meet others from other parts of the world who are seeking positive change in their settings. We believe that working together is more effective than "going it alone". Men like Fred, women like Modestine and Micheline are what keeps me doing this work.
Thank you for reading this, for your contributions, and for your support in other ways. We could not do this without you, either!
It costs $600 to train one woman and provide her ongoing access to the Association. $50 a month for a year.