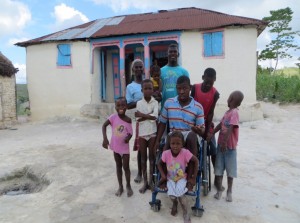 MTI, or Medical Teams International, began a program over four years ago to help rehabilitate person with disabilities in Haiti.  This has included training their families and communities in how to provide the needed assistance and encouragement, along with providing advice and financial support in making their environment handicap accessible.  In this, a full-time rehabilitation clinic is run, and mobile clinics are conducted at least once a month.   School sponsorships, group therapy classes, and training programs are provided to continue the encouragement of normalcy in the lives of these men and women.
In addition to physically empowering persons with disabilities to function independently and fully within the Haitian community, the MTI team looks at addressing the injustice of discriminations towards persons with disabilities.  Sensitization training sessions are provided to the community leaders, such as teachers, government officials and business owners, in raising the awareness of this discrimination.  These leaders, and the community as a whole, are encouraged to integrate persons with disabilities into the everyday life of the community with and increased sensitivity to their unique needs.  MTI seeks to remind communities that everyone bears the image of God, as we are all created equally.
Within the past fiscal year, this program has been able to provide 6242 rehabilitation treatments to 1006 patients, including 334 psychosocial support consults and 10 trainings on the rights and abilities of persons with disabilities.
Though the financial partnership between Covenant World Relief and the Medical Teams International in Haiti has come to an end, we continue to encourage and support them and rejoice in the ongoing progress of the program they have designed.