In the United States we are still striving towards equality among genders, specifically equality for women.  Though we are not yet as progressive, so to speak, in this as some countries around the world, women in the US have significantly more rights and privileges than women in a great deal of other countries such as Kenya. Seeing this discrepancy, explicitly in Kenya, CWR has been able to partner with the Covenant Connections in Development in Murang'a, a Kenyan county, to establish self-help groups among community members.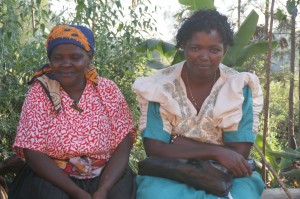 These groups seek to enhance social economic prospects and livelihood sustainability in the community, focusing first and foremost on the high illiteracy rates.  As of June 2014, three self-help groups have been formed, consisting of between 15-50 members.  The groups have been trained on group management, entrepreneurship, resource mobilization, group sustainability, and agricultural business.  To monitor the groups, there are monthly meetings, along with participatory midterms and impact evaluations halfway through the project.  Though the groups were originally designed specifically for women, few men have joined creating opportunities for family businesses to be started.  The culture in which these groups have been formed is still a hindrance to their development, however, despite the many efforts to overcome these obstacles.  The women of the groups are not allowed to own their own land, which is a capital resources needed for business. In this, the men of the community have been very helpful in allowing women in the groups to use family land, and by joining the groups themselves, have access to their land as well.
Along with learning these invaluable business and economic lessons, participants of the groups are engaged in reading the bible and sharing the word of God during their morning devotions.  Some group members have even started Bible study groups in their own communities to ensure the continued spiritual nourishment outside of their self-help group.
When communities come together, injustices caused by age old cultural systems can be fought and overcome.  Communities can be strengthened, economies can grow and become sustainable, and people can be empowered to their full potential.