We just received an update from
Roy and Aleta Danforth
, Covenant Missionaries in the Central African Republic, on our project providing disaster relief there.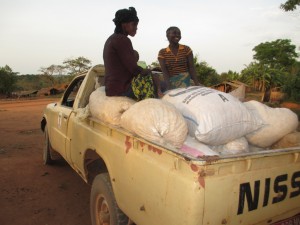 As rebel groups and Central African Republic national government authorities unsuccessfully try to work out their power struggle the local people that have been the victims in this whole crisis continue to suffer. Across the border in Cameroon, thousands of Fulani and Muslim refugees continue to live in camps, where sickness, malnutrition, and hunger plague the people, despite the efforts of the UNHCR and other relief groups. In addition, Gbaya people from our northern area also had to flee from Islamic extremists that burned their villages and killed many families. The result of all this bloodshed and destruction has been intense hatred between certain Muslims and non-Muslims. Finally, the international community has sent MISCA (international security) troops to guard the major cities against any more violence, and this has helped some. Our town of Gamboula is now under the protective care of 70 of these troops and we have a tenuous peace as we have had since the beginning of this conflict, but the hatred and fear of "the enemy" is still grounded in many people's hearts. 
We give thanks to the Lord that CEFA (Center for Experimentation and Training in Agriculture) is still functioning, despite all the tragedies that have taken place throughout the country.  CEFA has spearheaded a campaign to bring about reconciliation via connecting with both people groups and helping them with their current needs.  Joining with support from Barb Wooler's Encompass World, Covenant World Relief, Covenant churches, Foods Resource Bank, and individuals, CEFA has embarked a project for raising corn, peanut, and bean seed to then distribute to the refugee groups for food and seed starter for their gardens. This is an effort to help with immediate food needs AND encourage the people to re-establish their own food security, targeting 3 specific groups: refugees across the border, refugees residing in Gamboula, and many villages to the north of Gamboula. We have already collected harvests from CEFA's gardens as well as some from local villagers to begin the distribution program.
In late July, CEFA visited the Gbaya people who have started to return to northern villages, to help them with food, tools, and seed for planting. In an effort to help CEFA get these supplies to these remote villages, these returnees are voluntarily fixing their roads and with the cooperation of CEFA and Gamboula's mayoral team, they are repairing bridges – already 5 have been done! The people that have just returned and are getting help from CEFA are extremely thankful for the care, aid, and instruction given them, and this has been a big encouragement to each of the communities CEFA is touching.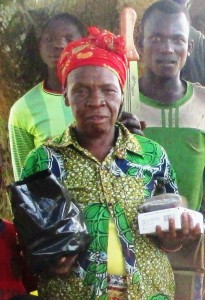 One woman shared her deep concerns, talking about the fact that they have no food to eat, just a few roots left in their gardens from when they fled. She pointed to their church, homes, and school that were burned to the ground and talked of the day when they were attacked.  Many were injured; some were killed as they fled in terror.  The buildings were then destroyed, seemingly for no reason. She repeatedly thanked the CEFA team for the food and the seeds given that day, which provided hope for her family and her village for the future.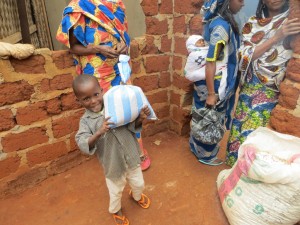 The first week in August, CEFA crossed into Cameroon to help 100 Fulani and Muslim families who had fled Gamboula at the beginning of the year. These are people we know, that have lived in or near Gamboula for years and years, and who have chosen to stay in the little border town rather than go up to the refugee camps because they hope to be able to move back home some day.  Many of these are close friends, some of whom we have helped with agroforestry and public health. They need help with food, seed, and medical care.  These Fulani friends are cattle herders, and if their cattle are okay, then they're okay.  Imagine, then their sense of loss when they can no longer keep their cattle healthy because they have lost the immense grazing possibilities of CAR. Some of them are keeping their herds over 200 kilometers from where their families live. They lost their homes and in many cases all that was in them as they fled in a hurry, just throwing a suitcase and a cooking pot together.  Some of them are renting houses but live with the all too often occurring possibility of a sudden eviction by a capricious landlord.  As time has gone by, some of them have purchased small plots to build houses on.  Because of their brave and forgiving hope to return, we are encouraged that reconciliation might someday happen. We are hoping to be a part of that process, by sharing God's love and helping with whatever we can on both sides of the river.  There is first a lot groundwork that must take place in people's hearts, especially among those who have suffered at the hands of the Seleka and because of that, resent all Muslims regardless of age or real involvement.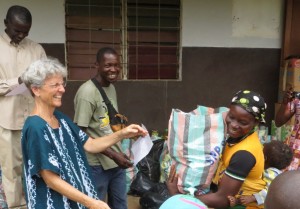 Most recently, right here at Gamboula, CEFA and its contributors were able to give hope and a hand to the Gbaya refugees from the northern villages, these ones who have not yet been able to return home. As the conflict calms down and the roads are repaired, these families will start to return.  These are families who Dave Husby and John & Letha Kerl had a chance to interact with and hear their stories during their visit in April.  We think that the young mother with the yellow shirt is one that was injured with a machete during the attack on their village.
CEFA is now gearing up to make another trip to the villages up north where it once had co-ops working in ag development. Five more bridges are currently being repaired in order to facilitate not just CEFA's help, but medical assistance from the Gamboula hospital and better protection by the MISCA troops. CEFA is renting large transport trucks to haul the tons of food and seed until a decent one is found to buy for its own use; this search has proved more difficult than expected. CEFA is already preparing soil for a second season as well as distributing seed (beans, corn, and peanuts) to the local population also for planting.  In this way we have hope that the local community will become involved in alleviating the suffering and take the beginning steps toward healing and peace. We are encouraged that the monthly gathering of all the local churches has started up again.  At these meetings prayers go up in worship of our Lord, to not only praise Him for His protection but to cry out to Him for those who still suffer in this ongoing conflict, and for His will to be witnesses for Him in a peaceful way.
Blessings,
Roy & Aleta