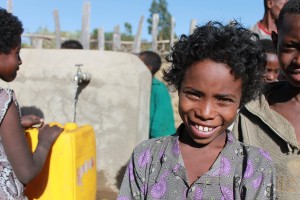 What is the difference between water points and a water pump? How much time is saved by having water close to your home? What is the dollar amount that saved time adds up to? How deep should a well be and what is the relative cost of five gallons of water?
These are questions that I have never had to think about. Growing up in rain saturated Western Washington I have never had to worry about clean water, except when there is too much of it. My town even uses the local waterfall to generate our electricity. 
However, Water First is an expert on these types of questions.
Water First is an international organization with the belief that access to clean water is a human right. They have been active in many communities around the world.  Because of their extensive work, they have developed a method for procuring water that aligns with CWR's vision of transforming communities. CWR is partnering with Water First in several villages in Ethiopia.
Water First identifies and secures a water source, then it works with local community members to build a pipe line for the water and a storage tank. The storage tank empties into many different "water points" (water points are a collection of water spickets) around the village giving many people access to water close to their home.
Once the storage tank and water points are operational, the villagers are able to get clean fresh water much closer to their homes. This saves them time, allowing them to go to school or work more. In addition the water is cleaner causing all of the families and animals to be healthier.  The families pay two cents for each five gallon container of water to a community member. This fee helps pay for the upkeep and repairs of the water storage container while having the village take responsibility of the water facility. Water First has been doing great work in Ethiopia and CWR is glad to be one of their partners.
–Michyla Lindberg, CWR intern