Residents here in Chicago have decided to start calling our city "Chiberia" because of how cold the weather has been recently (around -30 with wind-chill). When the university I attend decided to cancel classes because of the cold, it reminded me that even in age where cars can start by remote we are still at the mercy of weather; and weather has the power to disrupt plans and lives dramatically.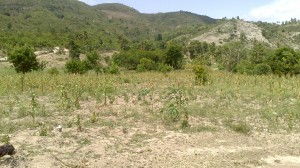 Weather is also having a detrimental effect on the people of Haiti, though they aren't suffering from extreme cold. Haitians are suffering from the worst drought in recent memory. The Haiti Christian Development Fund (HCDF) has been in the area of Fond-des-Blancs, Haiti for years now working to improve the situation of local farmers. They are working with CWR to develop irrigation systems and grain storage to help farmers have better access to water and to have a ready supply of grain for future planting.  Their plans are good; however they have been disrupted by the drought.
In spite of the severe drought, some of the farmers in the program who took advantage of the irrigation system were able to produce a crop. The crop was about 50% smaller than what it would have been in good year, but it was better than other farmers who didn't have access to irrigation.  In addition, though the drought seriously limited the amount of grain set aside for the storage, some grain was saved.
HCDF has hope that the future will be better for these farmers. If the weather improves, next year there is great opportunity for growth in this community. Though it doesn't always seem so at the time, God is more powerful than the weather. And he is working through HCDF to change lives in Haiti.
–Michyla Lindberg