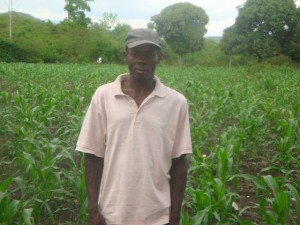 In existence for more than 25 years, the Haiti Christian Development Fund (HCDF) is a faith-based organization that has been partnering with the people of Fond-des-Blancs, Haiti to participate in discipleship, education, community development, and leadership development. HCDF originally partnered with a congregation that had been only four people meeting and praying together; today HCDF has grown to include eight congregations and a combined membership of over 1,000 people in a 20-mile radius of Fond-des-Blancs. HCDF's schools have been a blessing to over 1,000 students in the community and the leaders of HCDF have their eyes on the creation of higher education facilities to allow their students to further their education.
Other locally beneficial projects, under the banner of HCDF's development arm, CODEF (Coopérative de Développement de Fond-des-Blancs), have included the piping of water from a nearby spring into a more convenient location for more people, construction of 200 miles of road through the neighboring mountains, and planting of up to 500,000 trees per year on arid land since 1982. Also, HCDF has assisted in the establishment of a credit union that has a strong lending model that which creates financial sustainability in the community. Additionally, HCDF established a program to train six new community leaders every three years, investing greatly in their varied skills and learning.
We are partnering with HCDF to begin farming on a smaller plot of land (two hectares – 6.28 acres) in order to assess the risks and potential positive outcomes of a large-scale re-planting and irrigating in a 120-acre swath of land bordering the Lhomond River in Fond-des-Blancs. While testing the new process with the existing mechanical equipment and irrigation systems, the food produced will supplement food assistance for school children in the area. The experience with these farming techniques will also prepare local farmers to take over farming and harvesting, using the same systems and machinery that are being reactivated during the project.