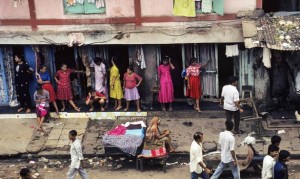 Asha was living the painful life of a prostitute in Pune, India. After few years, she gave birth to a baby girl.  She cared for her child for many years, but when her daughter turned eight years old, Asha's living conditions made it impossible to care for her little girl anymore. To make matters worse, the local people had begun commenting on how pretty Asha's daughter was and how should would make a very good prostitute. Asha also noticed signs of physical abuse on the little girl.
Asha was able to contact HCC and shared her difficulties with the staff.  She gave the child to HCC and requested HCC to care for the little girl.   HCC agreed to help find a better solution for the child's future, so they took her out of the brothel and cared for her at the Convent of St. Mary in Pune. All expenses related to her care and education were covered by HCC, which provided relief for Asha.
Asha was sure to meet the child every month at the hostel and paid a small amount of money for her child's care, but she requested that HCC not reveal to the little girl that Asha was her mother.
Asha's daughter did very well in school, studying engineering. She was later given in marriage to a good man from another city.  Both of them worked and lived a good life.  Asha never shared with her daughter that she was her mother.
After many years had passed by, Asha died of AIDS.  Some of the staff from HCC went to the brothel where she lived to pay their last respects and to pray over her. Her daughter also went with them so she could see Asha one more time.  It was then that she learned that Asha was her mother.
It was a shocking truth for the daughter, but she realized that even though mother had lived a secret life of pain and struggle, it was all so that her daughter could live a life of dignity.
Covenant World Relief is partnering with the Hindustani Covenant Church on a human trafficking project that works with commercial sex workers and their children in India. Stay updated on this project and pray with us for these vulnerable women and children. Please pray with us that through this partnership with HCC, more lives can be transformed and that woman may continue to find hope.