As someone who grew up in a very structured home, I often took for granted such things as adult supervision, regular schooling, a church home, and a consistent schedule. A Vietnamese teenager named Tran, however, knew nothing of these things I took for granted.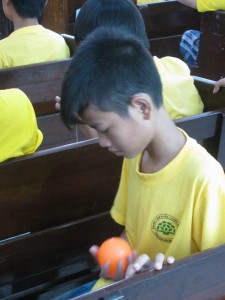 Tran grew up in the mountains of Nam Dong in Vietnam. His parents were unable to hold steady jobs. His mom often disappeared for extended periods of time, while his father struggled with many health problems due to alcohol addiction. Tran was essentially raised by his sister.
Without adequate supervision and parental love, Tran spent the majority of his time roaming around the mountains. He spent very little time in school and neglected his homework to the point that he failed the sixth grade. There are no churches in the mountains where Tran grew up, so he was also without a church family.
Tran's aunt Vuot, who is on staff with our partner South-East Asian Relief (SEAR), then encouraged Tran to visit the Blessing Motorcycle Wash & Oil Change Center (BMWOCC). She suggested that he stay there, where he would have a safe, stable place to live. While at the BMWOCC he would also have the opportunity to regularly attend school and work at the motorcycle wash center. Most importantly, Vuot knew that Tran would receive the love, support, supervision and help he needed, and he would have the opportunity to hear the Gospel.
So Tran went to live at the BMWOCC about three years ago. He is doing quite well there, although he misses his family. He has been attending church and has committed his life to Christ. He is also regularly attending school. School is difficult for him but he is doing well because of the help of a tutor.
His life has been transformed because of this project. He is now trying to memorize Psalm 121:7-8 –
The LORD will keep you from all harm –
he will watch over your life.
The LORD will watch over
your coming and going
both now and forevermore.
We are so thankful for partners like SEAR who help to transform lives for the Kingdom.