"Something as small as reading a story can make a difference in someone's life." In this recent update from our project in Cameroon, we are reminded of the necessity of education for children all around the world.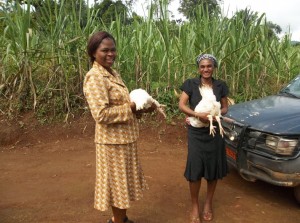 Take the story of Lasii, for example. He's a 12-year-old boy raising a goat to pay for his education. His little 9-year-old sister Mary is raising four chickens. This helps pay for her education.Together, with their widowed mother and four other siblings they went to a visiting veterinarian to have their animals vaccinated.
After hearing a simple story about a goat, Lasii was blessed with a gift of a goat of his own. Because of his goat, Lasii attends secondary school and will continue to help his mom's community group raise their next batch of 20 chickens until they are ready to sell. With the profits made from these chickens, approximately 27 children's school fees will be paid.
Perhaps this experience will inspire Lasii to become a veterinarian. Or maybe a storyteller. Or maybe something entirely different. But the beauty of it is that because of his goat (and the training and support given to him by his mother) he has been able to continue to attend school so that these dreams can one day become a reality.