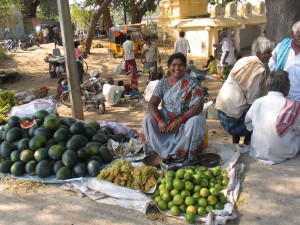 In partnership with India for Christ Ministries (IFCM), 350 families in 50 different communities around India are receiving training and empowerment in areas such as food security, community health, leadership development, and community development.
IFCM recently sent us this update on the project:
Four different types of groups have formed: the village development association, women's groups, youth groups, and self-help groups. The members of these groups are meeting regularly to discuss economic and social development in their villages.
Leadership and Skill Development programs have been conducted in many villages.
20 young men and women have been selected to attend computer training programs and other vocational training programs, which allow them to gain the necessary skills for social and economic development.
Sustainable livelihood programs have begun in 15 villages.
Pictured above is Lakshma, who sells vegetables in the market. She is the responsible for earning money for her family, so this project with IFCM has been a blessing for her. The project allows her to expand her work and better care for her family.
For more information on this project, click here.