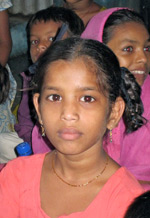 When the movie Slumdog Millionaire came out in theaters, I was there.  I ended up sitting in the front row of a packed theater, because those were the only seats still available.  I found myself profoundly touched and moved by the film, though I struggled with the images I saw portrayed on the screen.
Upon arriving in Mumbai, India the first place the Covenant World Relief board stopped was at the largest garbage dump in the world, over 500 acres in size.  It was this very sight that the movie Slumdog Millionaire depicted.  In and around this garbage dump are numerous child rag pickers, roaming throughout to find any remnants that may still be of value, even as garbage trucks continue to line up and pile on more and more trash.
There are simply no words that adequately capture the deep feelings that arose in the pit of my stomach when we pulled up to this mound of garbage that went further than the eye could see.  Feelings of astonishment, anger, sadness and hopelessness all seemed to meld together; the real life front row seats were not entertaining in the least. The images on the big screen were troublesome, but this time there was no getting out of your seat once it was over. There was absolutely nothing entertaining about this picture.
At this sight Covenant Social Services (CSS), the relief arm of the Hindustani Covenant Church (HCC), has 3 schools all of which teach and provide a hot meal to 50 children each day. While we were visiting these schools we heard testimonies from the children who attend. Like all children, these children also have great hopes for their future- becoming doctors, teachers and computer programmers.  I shall never forget how one little girl, who was no more than 10 years old, stood up and said, "I want to have a life of significance, I want to help other people."
In the midst of this real life picture where there are initially no signs of hope, there is a seed of just that, hope. These 150 children are receiving the gift of hope through Christ's love, which is the only hope that any of us have in life. The circumstances by which these children and their families live is by far sadder than anything I have ever witnessed. But thanks to the love of God and the compassionate ministry that is being done by the Hindustani Covenant Church, with the help of Covenant World Relief, the lives of these children are being touched with a seed of hope everyday.
–Written by Carolyn Poterek, associate pastor of First Covenant Seattle, WA and member of the CWR Commission.