Today's guest post comes to us from Doreen Olson, Executive Minister of the Department of Christian Formation.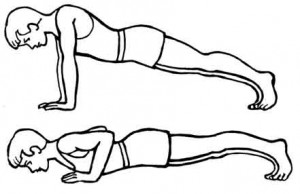 If you're following the trends in exercise and fitness, you've probably heard the phrase "core strength." It refers to the muscles of your abs and back and their ability to support your spine and keep your body stable and balanced.
All of our movements are powered by our core —the abdominal and back muscles work together to support the spine when we sit, stand, bend over, pick things up, or do an exercise of any kind. The core is the body's center of power, so the stronger you are in that area, the easier your life will be.
Lately I've been thinking about this concept of core strength and how it relates to our life of worship. Here's how it seems to me. Our worship – both as a community and as individuals — is a primary means of strengthening our core as a church. We are in large part a worship-formed people.
Worship leaders are in the core-strengthening business. As I've gotten better acquainted with those of you who lead worship in Covenant churches, I've observed both your desire and your giftedness for cooperating with the Spirit to do just that – to faithfully and effectively strengthen our core as a church.  Thank you for that! It's a considerable gift that you give to us.  And it can't be all that easy to do this week in and week out. We're grateful.
As you follow God's call on your life – as you give yourself for the sake of building core strength in the church – please, don't ignore your own core.
What do you do between times of community worship to build up spiritual core strength in yourself? What nurtures your soul? What do you need to be refreshed by God? Is it a hike in the mountains or a walk in the woods? A day of silence away from the details of your work? Does playing with children bring out childlike faith and trust, renewed strength and hope? Come on! Let's hear it! Because once we've heard that, then, as those who are served faithfully by you each Sunday, we ought to serve you by asking the historic Covenant question: How goes your walk with Christ? That core relationship needs to be strong in order to lead and serve well.
I've been praying for "core strength" for followers of Jesus for quite some time. To do that, I often use the words of the Apostle Paul in Ephesians 3, beginning with verse 14. Each of Paul's four petitions is as appropriate today as when it was initially written.
That God would strengthen you with power in your inner being —
That Christ would dwell in your hearts through faith —
That, being rooted and grounded in love, you would grasp how wide and long and high and deep is the love of Christ, — and
That you would be filled with the fullness of God.
I pray these petitions for you, as our worship leaders, today.
It's that transforming work of the Spirit inside us that strengthens our core, keeping us stable and balanced when we're faced with difficulties. The strength of our inner being informs and influences our attitudes, our thoughts, and our behaviors. It's a "core strength" that is prayed for here….for each of you as well as for the whole of the church.
While I'm aware that this is God's work, it does take some effort on our part. It's a cooperative effort that develops our "core strength" as followers – as disciples – of Jesus.  Lean into it. Persist. Don't ignore your core.
Now to him who is able to do immeasurably more than all we ask or imagine, according to his power that is at work within us, to him be glory in the church and in Christ Jesus throughout all generations, forever and ever! Amen.