(January / February 2015 Monthly Prayer Bulletin)
It's a little too late for a New Year's Greeting… 
But we pray that all of you – our friends, family, and supporters – have had a great start to 2015. Thanks for being willing to walk and pray with us this year too.
We thank God for… 
a great trip to California – Andrea had a wonderful time connecting with a few of our supporting churches last week in central California. These were just some of the experiences that she mentioned:

super heavy fog (I even got pulled over by the police because my tail lights were off on the rental car)

excellent Mexican food

serving dinner to the homeless in Turlock with the Turlock Covenant Church youth

serving breakfast to the homeless in Modesto at the Salvation Army

preaching at two supporting churches

watching and discussing "At the End of Slavery" (a film about human trafficking produced by International Justice Mission) with Modesto Covenant Church friends 

being told by people I hardly know, "I've been praying for you for years! I'm so glad to see you!"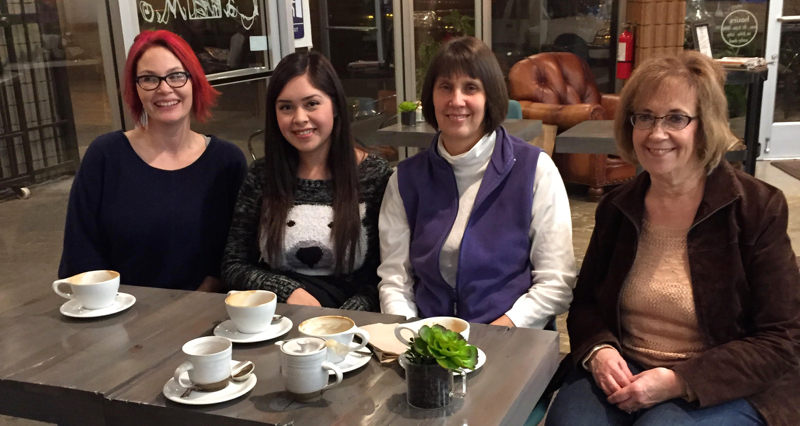 Andrea hanging out with friends from the youth group in Turlock…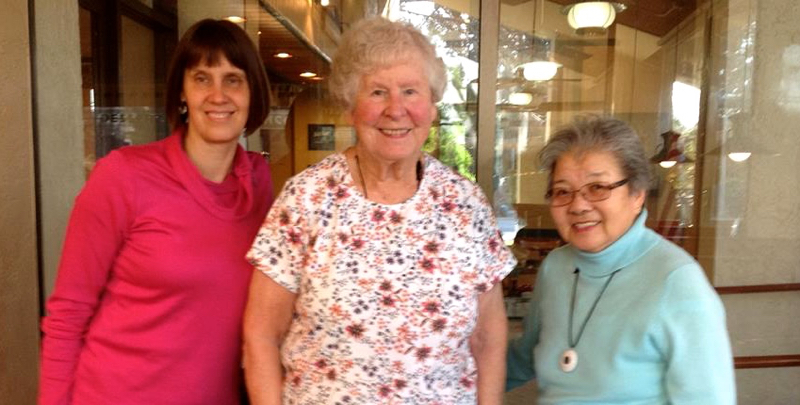 Andrea's comment on this photo: "Here I am with two lovely,  faithful prayer supporters from the Walnut Creek Presbyterian Church. Between us God has given us 239 years of life – I'm 53 years old – do the math!"
a chance to be at Midwinter – Midwinter is the name given to our large denomination-wide gathering for pastors, chaplains, and other kingdom workers. This is the first midwinter that I (Tim) have attended since 1993 so I'm having many chances to re-connect with friends as well as to connect for the first time with new friends.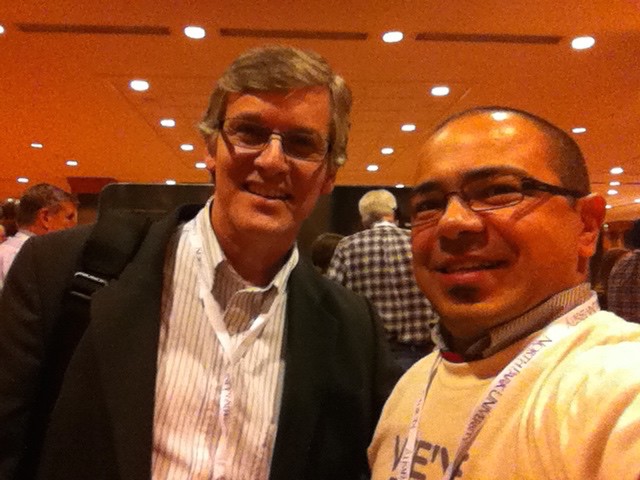 Here I am meeting our new colleague Fabio Muniz for the first time. Fabio and his wife Johnna will be joining our Japan team in April. We are really excited!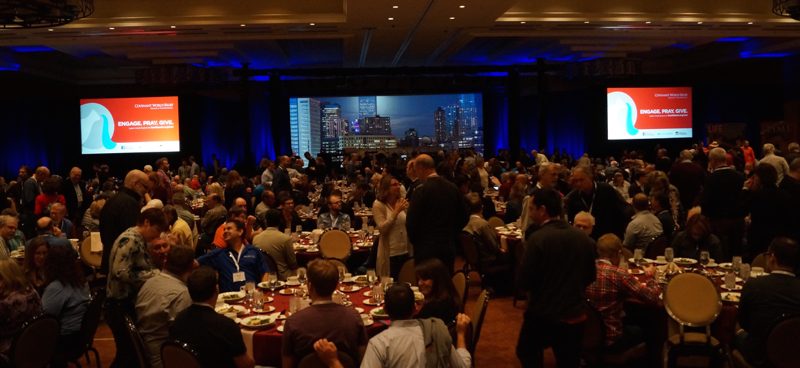 This year's midwinter conference is happening in Denver. While the east coast is being pummeled by a blizzard of epic proportions, we landed at the Denver airport today in 70 degree balmy weather! Here…. our opening dinner.
We are praying about…
Upcoming trip to Thailand – 

All of us (except Sam) will be flying to Thailand on February 11-19 to take part in our all-Asia Covenant missionary gathering that takes place every few years. The kids get to skip a few days of school

and we all get to (hopefully) experience a bit of sun and heat (not that the Seattle rains are bothering us yet….) Thanks for praying with us that it will be a time of wonderful fellowship, worship and training.

Plans for church visits in March and April – We're busy scheduling trips to visit our supporting churches in Minnesota during the months of March and April. We're looking forward to sharing our ministry reports as well as hopes for the future with these faithful supporting churches. As we've mentioned in previous letters we're looking for new individuals to join our support team as well. (Click

HERE

if you might be interested in joining our team.)
Andrea's mother and our three kids!  Thanks for continued prayers for Andrea as she is involved with care for her Mom…. and for our children in their various school situations.