Dear Friends & Prayer Partners,
Greetings from Chicago! A lot's been going on since we last wrote. Here's a few news bullets at the top… with photos down lower if you're interested…
WHAT WE'VE BEEN DOING….
First of all, thanks to those of you who responded about our need for a car…. good friends and family have provided wheels for our use, both short term in Chicago…. and for the whole year in Seattle. We are so grateful!
Sam graduated with all his friends from the Christian Academy on June 7th. What a great bunch of students and it was fun to be there as parents and enjoy the festivities.
At the end of June we enjoyed a family trip up to the city of Ofunato, where our colleagues, Stephen and Soo Bay are working in post-tsunami relief work. It gave us a chance to see, pray, and serve in a small way as a family and to be reminded of the many needs still remaining in that area of Japan.
On July 7 Tim was able to participate for just one day in the start of a work camp at Akagi Bible Camp. Our colleagues, Jim & Hydi Peterson have recently moved from Tokyo up to the top of Mt. Akagi and are already adding their energies and vision to the program at the camp. Check out a couple recent blog posts HERE.
From July 9th we were busy just moving all of our things out of the rental house, putting them in storage, cleaning the house and packing to get on the plane July 15th.
We made it safely to Seattle on the night of July 15th and the next day Sam began a two-day orientation session at the University of Washington.
We enjoyed 5 quick days in Seattle during which we checked out the house that we will be renting in Woodinville, dropped half of our baggage off there, checked out the schools where Lilla and Sky will be attending, and dealt with things like renewing drivers' licenses, getting phones connected, etc. Again, the help of family and friends made it not only possible but even smooth and enjoyable.
On July 21 we flew out to Chicago where we find ourselves now!
WHAT'S COMING UP…. 
 Andrea's sister has been hosting us and we look forward to spending time with Tim's sister and family tomorrow.
Sam and Lilla begin their work / training at the Portage Lake Covenant Bible Camp in Michigan this Sunday the 27th and Sky will also be a camper there on August 3-9.
Andrea and Tim will attend the "Missionary Connection Event" on August 3-10 which will be a chance to re-connect with colleagues and staff, from other countries – as well as from our Covenant headquarters here in Chicago. We look forward to that.
After that we had hoped to take a road trip and drive back to Seattle, visiting friends and relatives along the way….. but it appears that it will not be possible because of schedule conflicts. The schools in Woodinville have some early orientation for new students and we feel the need to get Lilla and Sky back for that so we plan to fly back to Seattle on August 17th.
Yes, it's been busy but we feel as though we have been so blessed and protected by God. Thank you for praying for us, even when you weren't sure where we were or what we were doing from day to day…
Seattle friends: We look forward to settling in soon and we're looking forward to sharing a cup of coffee or tea!
Chicago friends: we don't have lots of free days on this trip but if you'd be interested in trying to get together…. drop us an email line here….
To all of our friends and supporting churches: We've heard from many of you about possible visits. Andrea is putting our schedule together and that will continue in earnest during and following our time here in Chicago. We'd love to hear from you about possible dates and opportunities for a visit during this next year. Contact Andrea here:
andrea.johnson@covchurch.org
Well, this turned out to be longer than intended….. thanks for taking a moment to read it. We couldn't be doing any of this without you. And now for a few photos…..
Sam, graduating from CAJ and heading to UW…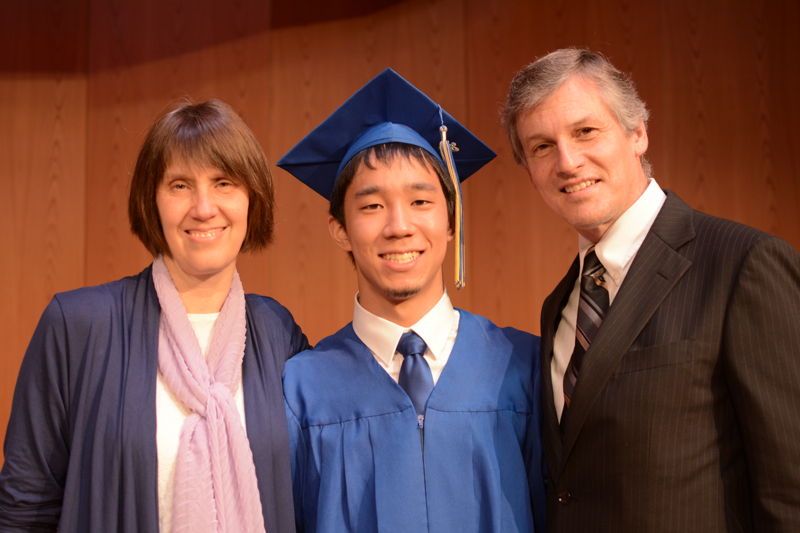 A few shots from our family trip to Ofunato…   Sharing in worship…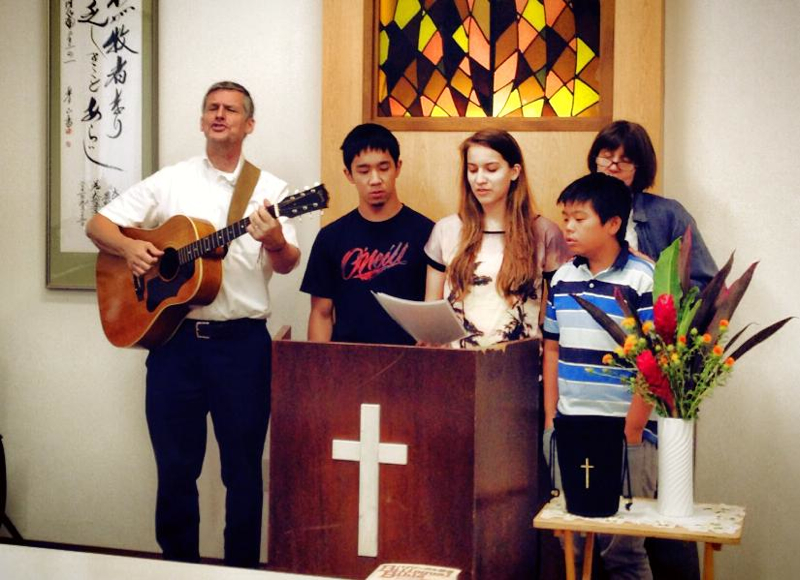 At a sushi restaurant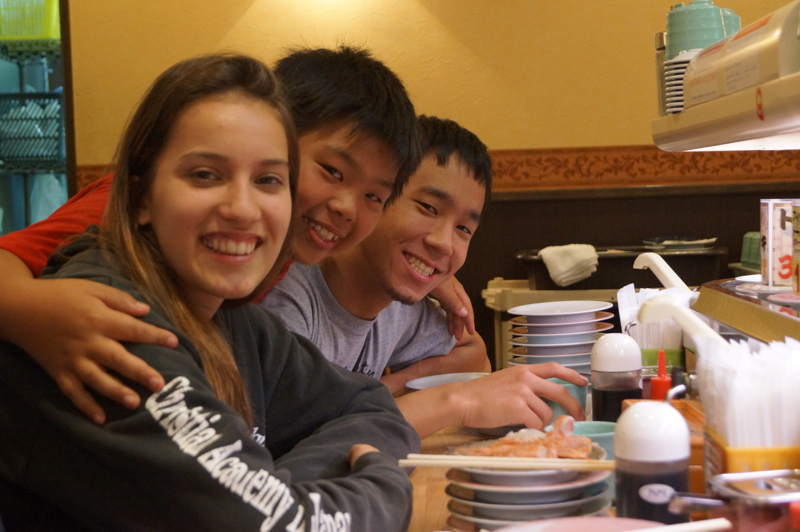 Grace House, our base camp for volunteers in Ofunato…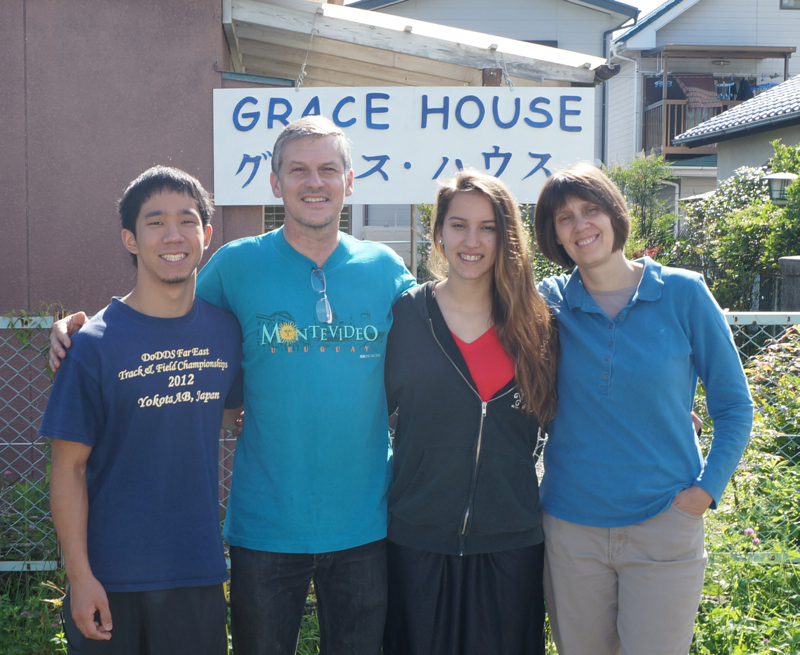 Volunteers gathering for lunch during our ABC work camp…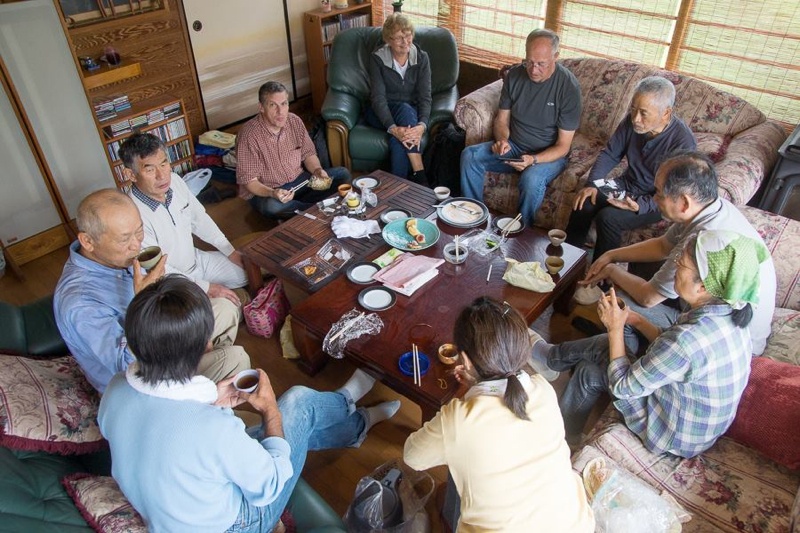 "Johnsons in Japan" becomes "Johnsons leaving Japan"   At Narita airport on our way to Seattle… (photo by Jim Peterson)