From May 30th-June1st Tim and I took a brief working holiday to Tohoku. Here's my impressions of our second day – Andrea…
Day 2
I sense the rain has stopped before I'm actually awake. Maybe it's the bird song or the warm light sneaking between the curtain and the window frame. I open the curtain to look out and my heart leaps – I see green hills, blue skies, and blue and red tin and tile roofs with a few modern grey or beige ones here and there. Although sightseeing wasn't our reason for coming, I feel grateful – even before the day starts – for the chance to be here and to see with my own eyes the people and the land of the Sanriku area of Tohoku.
Downstairs, Pastor Shimizu (a frequent volunteer who takes the night bus up from Kanagawa) is eating his breakfast. Volunteers usually buy, cook and clean up their own food, but there is always more than enough. One staff member comments, "Grace House has a ministry of eating! There is always so much – we give thanks and eat, eat and give thanks." Community people often donate vegetables, bread, or other items to show their appreciation for the volunteers. Today there is a lot of spinach and leeks.
At 8:00 everyone gathers for prayer before starting the day's work. Tim is handed a guitar, and we sing. Our voices are quite ordinary, and we don't all know every song, or we know the same song and melody but with a different rhythm… Even so, there is a strange sense that God is present, and through our weak attempts to open ourselves to God together, the kingdom is coming here, now. It is coming through all the Christians who have come to Ofunato in the past two years, and through us too, even as we sing.  I wonder if the unsuspecting neighbors have any idea what a momentous thing is happening unseen.
After Scripture, work assignments are discussed. Today there is a waffle-making activity at one of the temporary housing units, and some light carpentry. Often there are visits to sick people, and activities for kids living in temporary housing units. We pray in twos, simply, from the heart, and set off in various directions.
Tim and I are not here as regular volunteers this time. We came to connect with the Grace House staff and look for housing for the Bays, a family coming from the States this month with an unusually strong sense of call to the Ofunato area. Housing for foreigners in Japan is always a bit hard to find. Here there's an extra catch. The tsunami damaged over 5500 buildings in this city of 41, 000 people. To put it another way, about one in three buildings was damaged or destroyed. About 8000 people took refuge in evac centers and later, hastily built temporary housing. Add to that the complication that much of the land where buildings used to sit sunk and is unsafe for rebuilding. Asking someone to rent to an outsider feels a little bit like asking a hungry person in a food kitchen for cuts in line for a friend.
Our first task is to follow a two-year old lead, a business card of the president of a contracting company called "Aiken". We also have a picture of the man standing next to Stephen Bay on his brief visit to Ofunato soon after 3.11.  We find the company, thanks to God and our Navico iPhone app, overlooking a beautiful inlet (photo below) which once harbored a fishing fleet. I wonder whose house, tree, or car bent this sign as the tsunami dragged its loot back out to sea.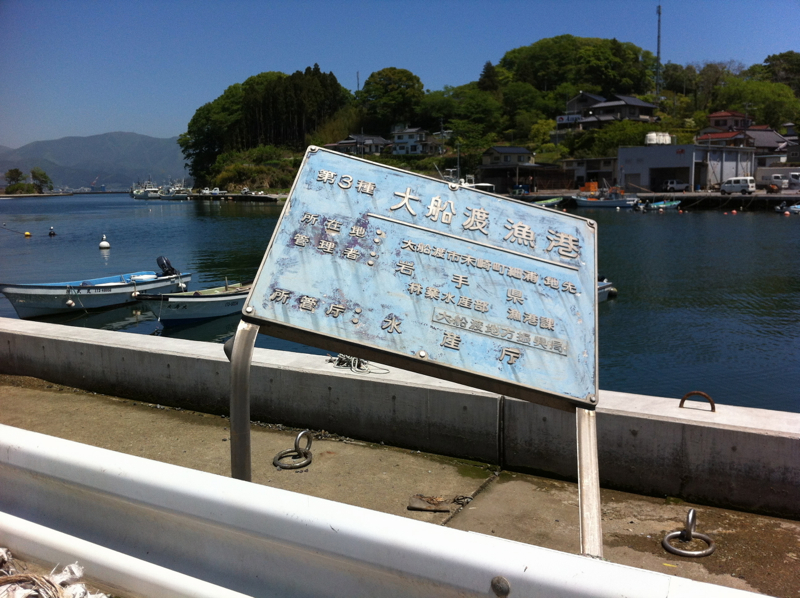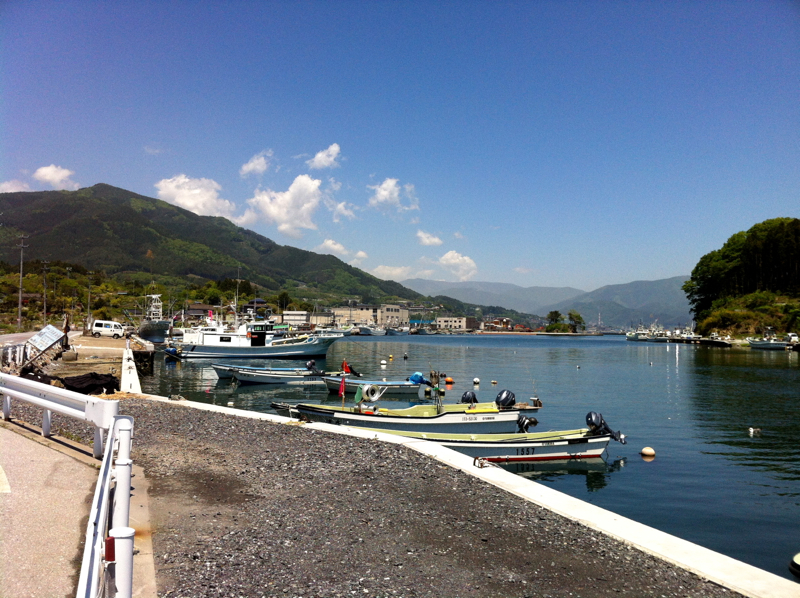 Inside the office, the staff are guarded at first, but soon warm up. (who are these foreigners who show up without a business card of their own, holding one of the boss's? Are they trying to collect on a debt, or?!?). One worker has heard of Grace House, and expresses a desire to help. The boss isn't in, so we leave our contact information and head back through what used to be downtown Ofunato.
Block after block (the official city website says 3 kilometers) is empty of all but concrete footings, sand and weeds, and an occasional almost-intact building. Tim comments that when he first came, garbage was everywhere. I can hardly tell there was a city there once. (The pictures below were taken on 3.11.2011 – the day of the earthquake and tsunami – and 3.12.2011 respectively. You get a small sense of the destruction that was experienced here.)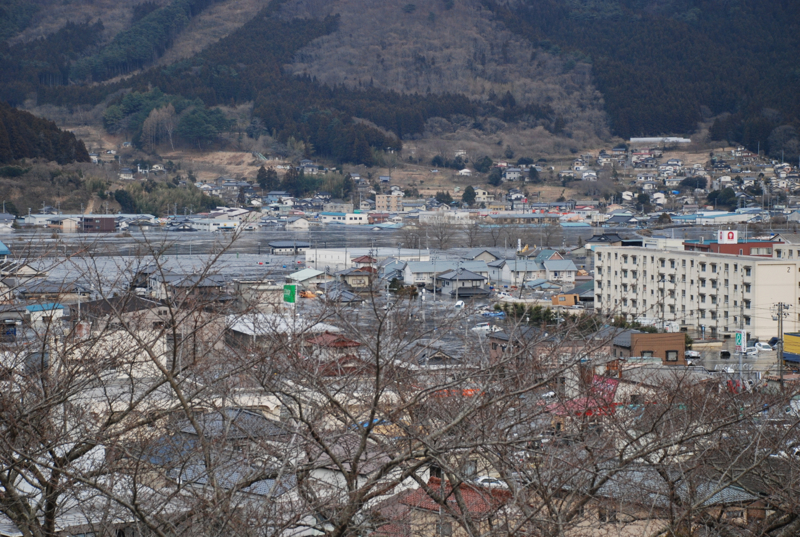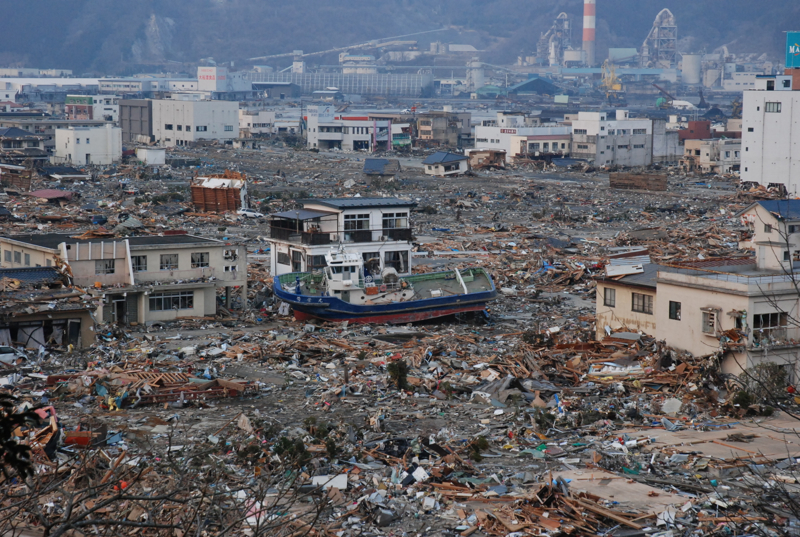 We pause for a moment of silence at the clock which marks the moment the tsunami struck, 3:25.  (I find out later this was the heart of the downtown shopping area.)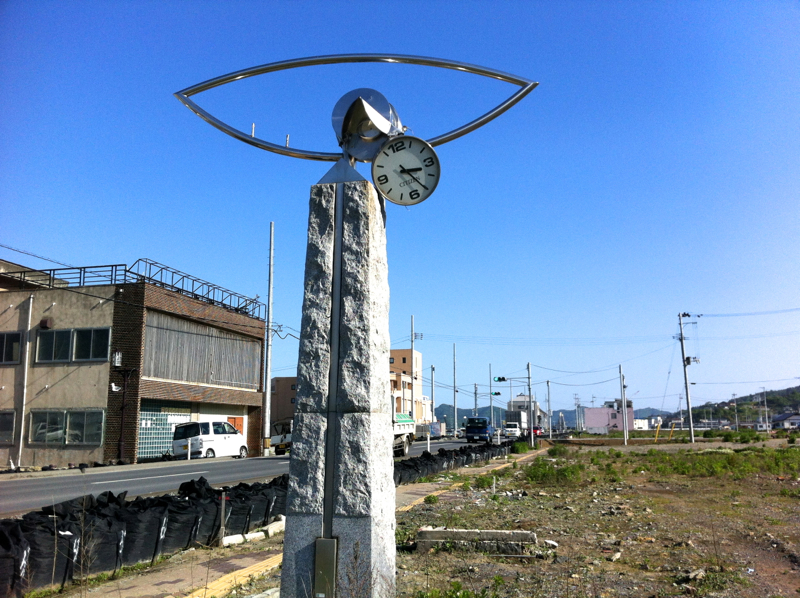 Ofunato is a city created by combining the larger harbor town of Ofunato with all the little villages in the area. Ryori is one of these villages with a history that stretches far back. On our way there, passing the Akasaki area, we pass several turnoffs up valleys leading to higher ground. Tim informs me that most of the temporary housing units are up there, and tells of past visits to each.  As the road curves and winds up and down, it feels a bit like a roller coaster in slow motion. We stop at each lookout and pullout to take pictures. After all, it is my first time here, and I don't know if I'll be back.  The smell of salt air and approaching summer stir something deep inside. Inlets and islands reminiscent of Scandinavian coastline and the San Juan Islands are everywhere, and part of me senses a kinship with this area unlike any I've felt in other parts of Japan. It is called rias here (the term for fiords and inlets), written in the phonetic Japanese script used for loan words. I wonder what language it is borrowed from? (Later I find it is from Spanish.)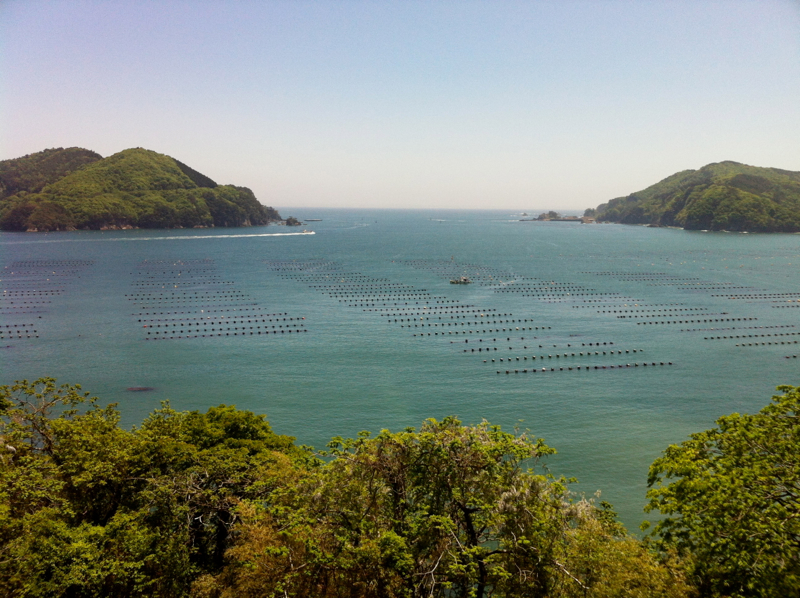 In spite of the beauty, somehow it is hard to breathe, as if a deep breath would peel back the façade of calm on this scene and invoke the recent violent attack of the ocean.  I stare at the sea, limpid green, lighter in the shallows, darker in the deep, now lapping quietly at the stone breakwater a few meters away.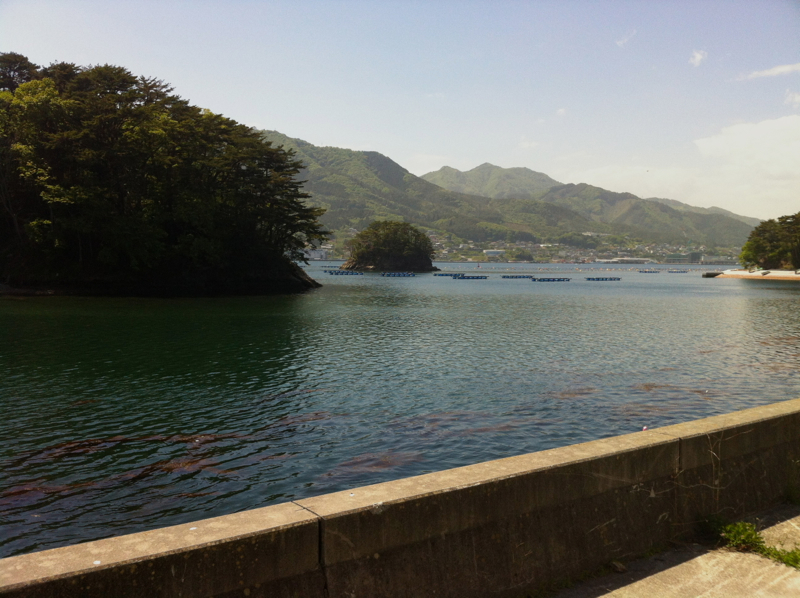 A lone violet pushes out of a piece of broken concrete at my feet; wondering at its will to bloom, I see that my feet are in what must have been someone's garden. A short row of iris pushes up through the sand and rock, and what used to be an ornamental tree now sits broken and unkempt. Squinted eyes and a step back reveal the topographical outline of the house foundations and driveway. I feel a chill inside, and move back toward the car.
Impressions of Ryori feel like a book that needs to be written. Scenes from our brief afternoon feel like seeds that someday might sprout into more than a hastily written blog post. Two contrasting scenes portray the span of time which is the context of Ryori's identity. One is Chorinji temple, a zen temple that looks like it hasn't changed much in hundreds of years, except for the high tech supports on the pine tree framing the bell tower. I want to interview people about how this temple and its priest(s) and their families were affected by the tsunami, and what role the temple is playing in the recovery and rebuilding stage.  I don't see anybody to ask, and even if I did, I think it might be too early for an outsider to ask those questions. (below, the gate leading into the temple…)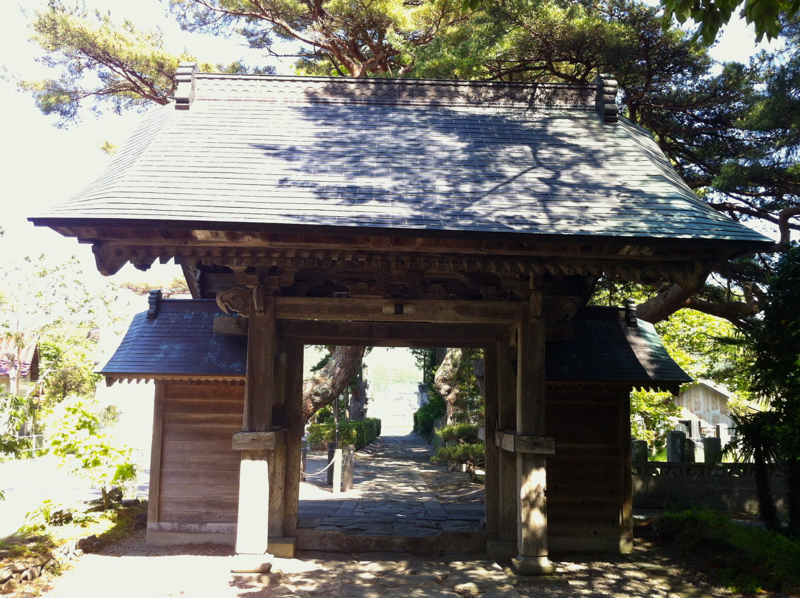 The other scene, on the other end of the time spectrum, was the open playing field at the junior high. One of the few level places at a high enough altitude to escape damage, it sits a stone's throw from a temporary housing unit squished between the hill and the gym. Today we see several older men busily putting up signs and banners or carrying benches. We ask and find that the prefectural elementary baseball playoffs will be held here starting tomorrow, sponsored by McDonalds. Baseball is big in Japan, and most elementary schools have their own team. The trademark yellow and red of McDonalds looks a little less garish, a bit warmer and more humane on the carefully painted sign in the man's hand.
We slowly wind our way back toward Ofunato, stopping to take pictures. I breathe in the beauty and breathe out the pain, and shudder at how fragile life is. Then we notice an incongruous concrete edifice under construction and pause to investigate. It's the work of Mido Harada, an artist from Hokkaido. With a broad smile and laughing eyes set in a well tanned face, he tells of the invitation to make this community art-in-progress as a memorial to what is gone, but in a shape that will restore hope and a smile to those left behind.  It's a castle/play structure complete with a wheelchair accessible ramp, ultimately to be covered with mosaic made of broken pottery.  Hope and beauty out of destruction. For me, so in-my-head and removed from the world of the five senses, the shiny broken pottery shards set in the gritty grey and still pungent concrete tug something deep inside. I think I understand in a way I never have before why art is so important. (Tim with Mido Harada)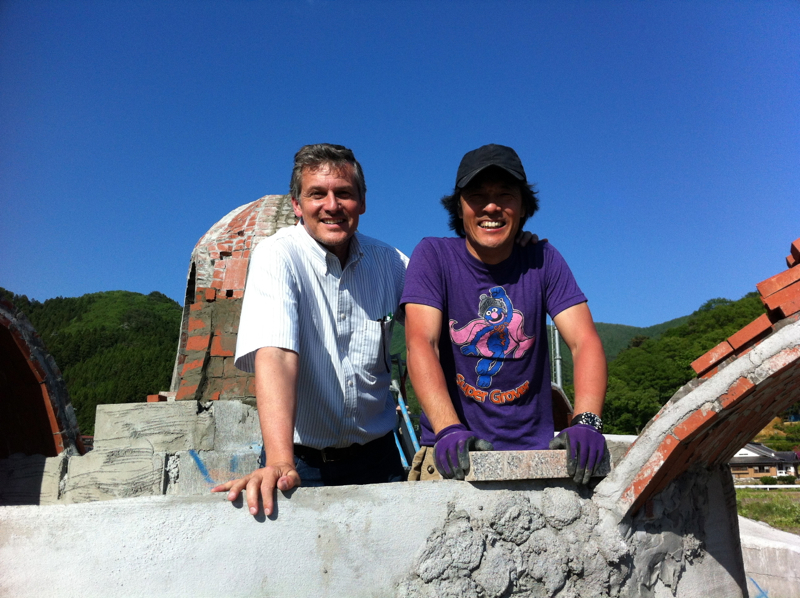 After a return to Grace House, we decide to eat dinner out with staff. We once again traverse the nonexistent downtown and pull in at a restaurant called Nakamuraya, now housed in a row of prefab buildings on the edge of the emptiness that used to be downtown Ofunato. We eat seafood- delicious, fresh, generously portioned – and upon leaving realize that we were the only guests though it is Friday night, 7:00 pm. Rebuilding and revitalization are fancy words, but the lean reality casts a shadow longer than the setting sun. (Lina, enjoying a fresh "catch of the day" meal… Andrea with Lina and another volunteer visiting from Singapore.)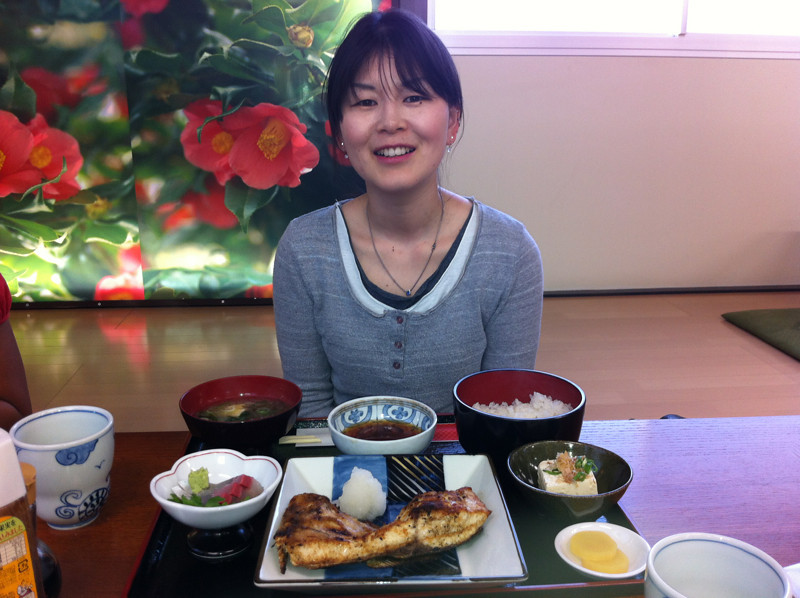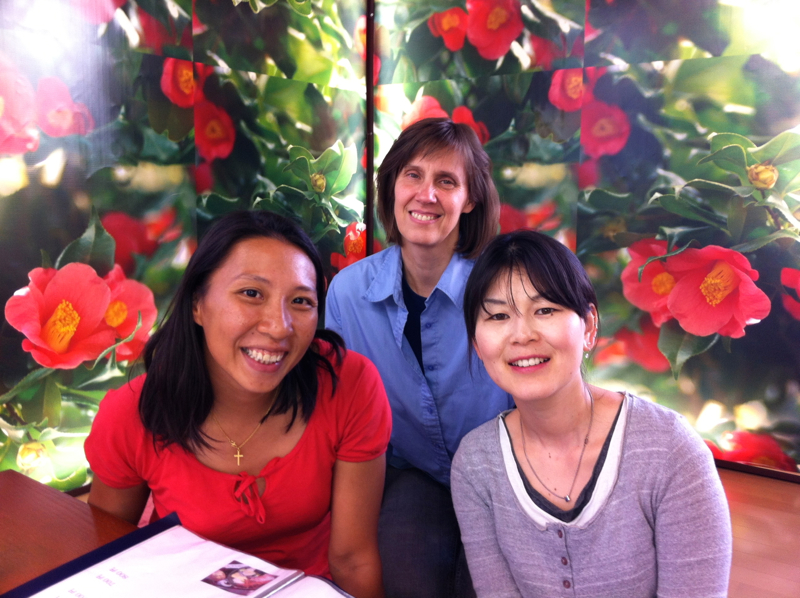 Our last adventure of the day is to Goshiki Onsen, a hot spring spa set above a reservoir up in the foothills. We stop at the dam, which is breathtaking…and high.  There are no other people around, just a few deer wandering in the damp evening air alive with bird song and the hum of insect wings.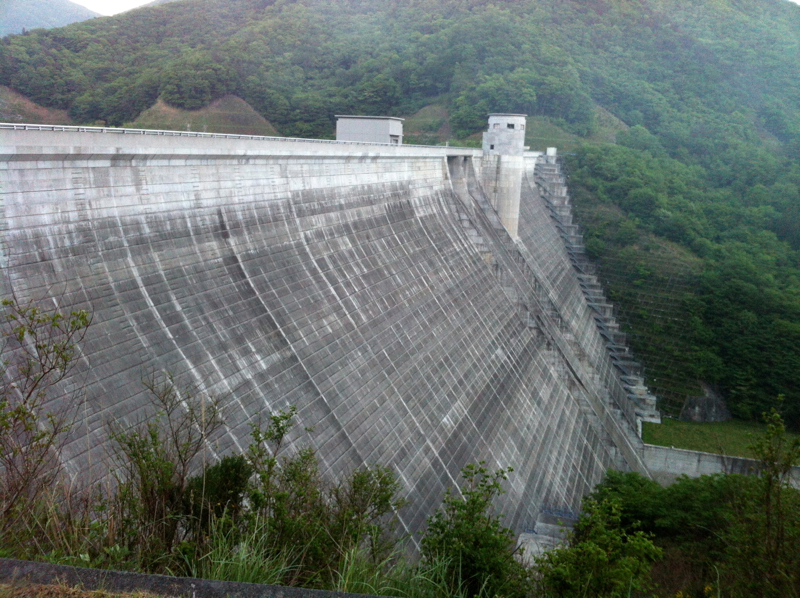 Back in the car, on to the onsen.  It is hot, and as I soak I listen to accents which remind me of just how foreign I am here- I can't even track the conversations in this regional variant of Japanese. On the way down the mountain, the brightly lit ground of the schoolyard is filled with firemen; they have no other place to practice drills these days, and they must be ever ready. Lives depend on them.