From May 30th-June1st Tim and I took a brief working holiday to Tohoku. Here's my write-up for the first day – Andrea…
Day 1
It's grey as we take off, and I sigh with relief settling into the passenger seat of our white Nissan Serena van. It's 9:30, an hour later than we'd hoped to leave, but emergency contact numbers , the right color T-shirt for Sky's school Field Day, and hanging the clean-but-still-wet load of clothes all takes time. How long has it been since Tim and I took a trip, just the two of us together? I can't remember. Smiling, I decide that this trip can be our 27th anniversary celebration a bit early.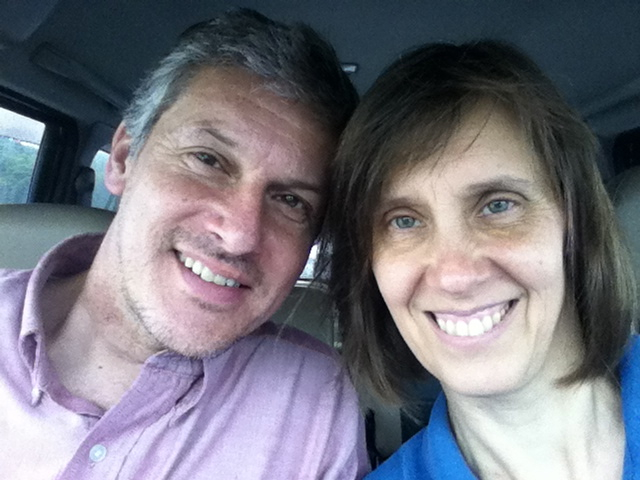 Within an hour, city driving changes to expressway cutting through semirural areas. Rain falls, sometimes hard, sometimes so light I try to turn the wipers off for a few moments. My thoughts shift to Seattle, which has so many days like this.
Signs for Nasu Kogen, Iwaki, and Koriyama mark the Tohoku expressway going north. Along the way there are several farms with empty barns and fallow fields.  Perhaps they are caused by the ongoing radiation problem? Pork from this area used to be pricy, something for special occasions; now the same label pork often goes unsold in Tokyo supermarkets even when offered at slashed prices. At the closest point our road takes us 60 kilometers from the crippled nuclear reactors. On this trip we don't have time to go closer; we agree to go soon.
Mid afternoon we pass through Ichinoseki on our way to the coast. Are there more tombstone/granite sellers here than other parts of Japan? The gray rain sets the mood as we descend toward Kesennuma. Wisteria is blooming purple and wild, a full month later than Tokyo. Here a tall, graceful one with branches laden with blooms embraces a more sedate dark needled pine towering over the road. Up the side of the ravine, purple is interspersed with shades of green, muted by rain and wisps of fog. Although it is usually one of my favorite colors, I suddenly understand why purple often symbolizes mourning in Japan.

Trees open up to tiny fields and quaint tiled houses. Tim points out a sign and says, "Here- look- this is how far the tsunami came up- everything below it was inundated." It takes a few seconds for my mind to take it in. Here is a stately tiled roof two-storied house with immaculate azalea bushes in the rockery. Just below it is an empty square lot with weeds sparsely growing. Just below that is a new house, looking like any in Tokyo. Below that is another empty lot. Two years have passed, so the thick, smelly tsunami sludge can only be seen as traces of dark pigment on walls or doorposts. Instead, flowers and grasses bloom where people have taken the time to desalinate the soil. Tree stumps and long gashes in remaining concrete walls speak to those who listen of toppled buildings, crushed cars, and mountains of debris, most of which have already been removed. It feels like dusk, but it's really only late afternoon. We drive through Kesennuma to one of the most documented sites of nature's disdain for civilization's boundaries, the oceangoing ship which was carried hundreds of meters inland from the port and deposited in front of one of the now nonfunctioning Kesennuma train stations. There is talk of turning the ship and environs into a park, and already most of the mountains of debris have been removed, leaving barren, sandy ground sprinkled with concrete footings, broken water pipes, and white clover which seems to thrive in this soil.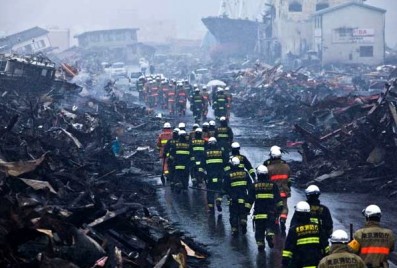 On the left the ship can be made out in the background. This is how the area looked on about April 15, 2011. Much of the city had burned and fire departments came in from all over the area to help put out flames and restore order. Below is how the area appears today.

We wind our way into Ofunato and pull into the parking lot of Grace House at 5:55 pm, just in time for a great meal cooked by volunteers and staff- Singaporean curry and papadam, Japanese home cooking including seaweed salad, stir fried pork with green peppers and bamboo shoots, and thin unsweetened pancakes containing big chunks of sweet leeks.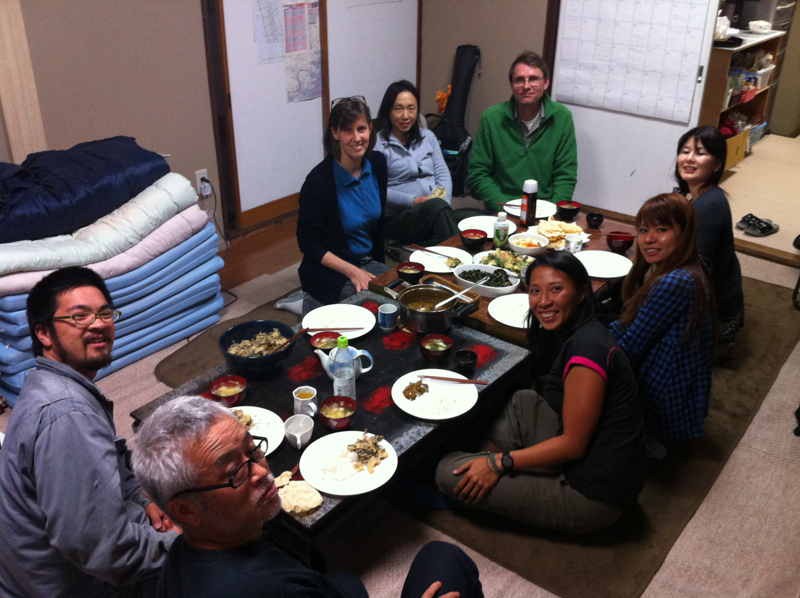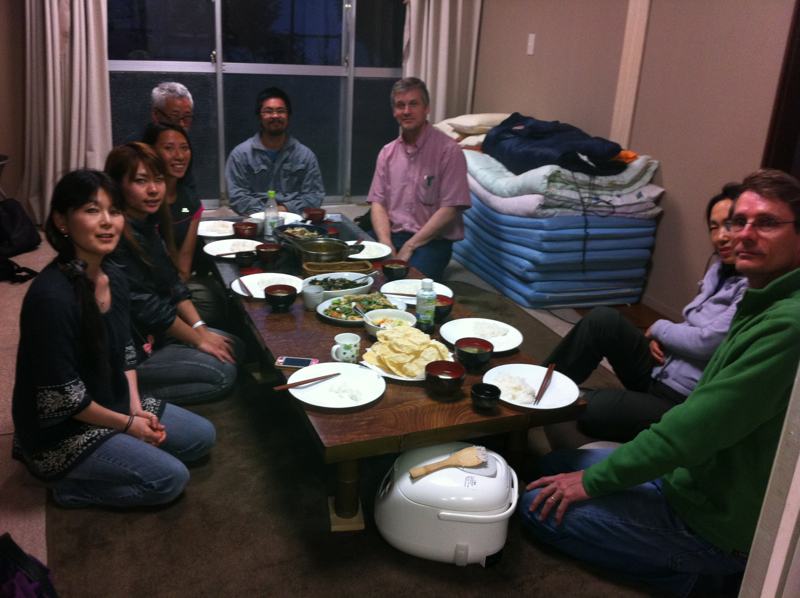 After cleaning up, we continue chatting with Fred and Chikako (Grace House staff) until sleep forces us all to our rooms. Grace House is spare and basic, yet our second story corner room with a cool spring cross breeze feels better than a ritzy hotel suite. (Tim says it is not quite as comfortable though when four guys are all squeezed into that room snoring…as has been his experience on past trips….) I drift off to sleep wondering if the rain will lift tomorrow, very glad to be here. (Grace House shown below with our window on the upper right side…)