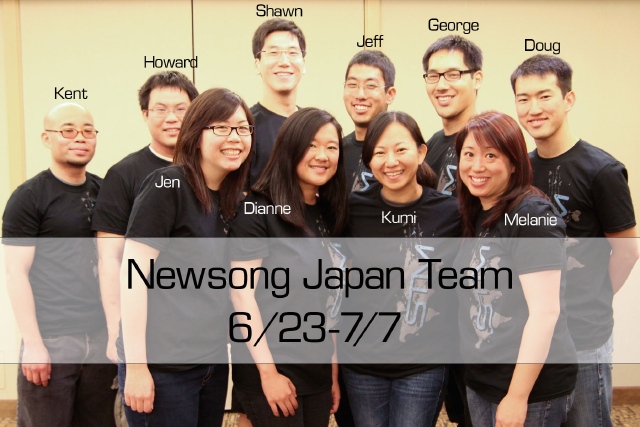 From June 23rd until July 7th a wonderful team of 10 young people from the Newsong Covenant Church in California came to help with relief work in Tohoku. Our involvement began on 6/26 as Tim and colleague Jim Peterson drove the team from Tokyo up to the city of Kesennuma along the coast north of Sendai in our two vehicles. With all of our luggage and 14 people (including two of Jim's kids – Miles and Kendra) we were really crammed in our two cars (!) but we made it safely up on our first day.
Below is the Samaritan's Purse Base Camp (Hope Center) in the city of Kesennuma where we spent our first four days of working. SP has been working hard on the ground for pretty much the entire 17 months that have transpired since the earthquake and tsunami. It was a good place for the Newsong team to begin, meeting other volunteers and getting a feel for the situation here along the coast.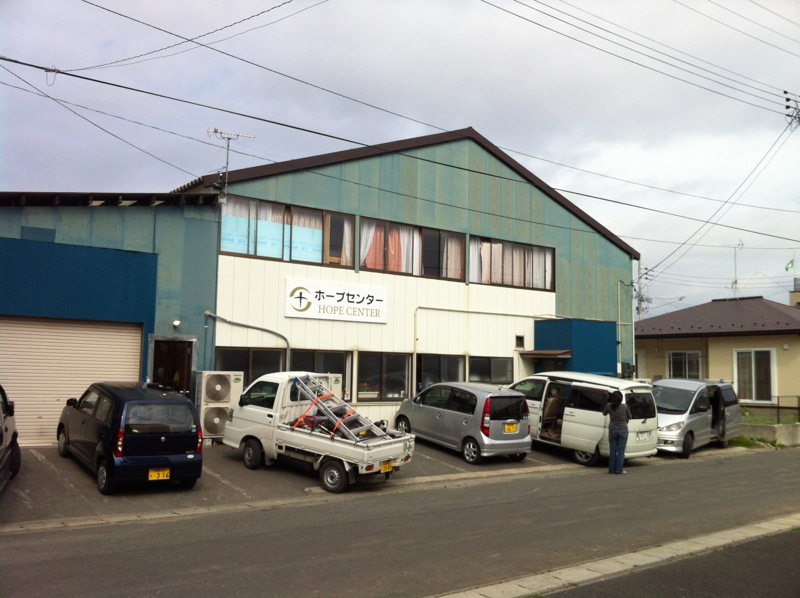 Our team was split into two different groups and we worked on three different sites / homes during our 4 days at SP. The basic task is reclaiming and repairing homes that have been destroyed and ruined by seawater at the time of the tsunami. In most cases, the second floor of a home is still usable but the first floor needs a complete gutting and re-working. This always begins with "mudding out", the process of pulling out all the ruined walls and floors, and then removing all the mud, slime and detritus. Part of our team worked on the home of Mr. Takahashi in the town of Tomarihama in Minami Sanriku. Mr. Takahashi is in the center wearing the cap.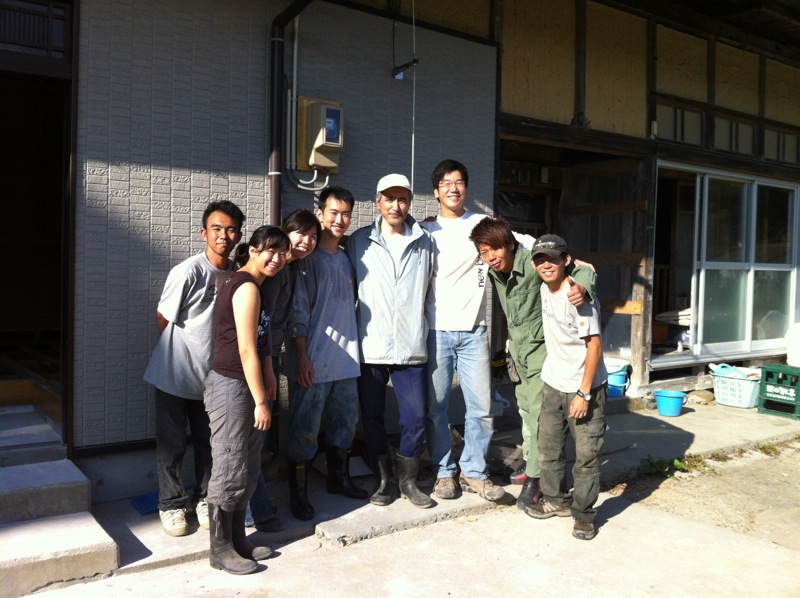 …and here's what part of his home looked like after the mudding out and prior to a complete "power washing" with water and bleach.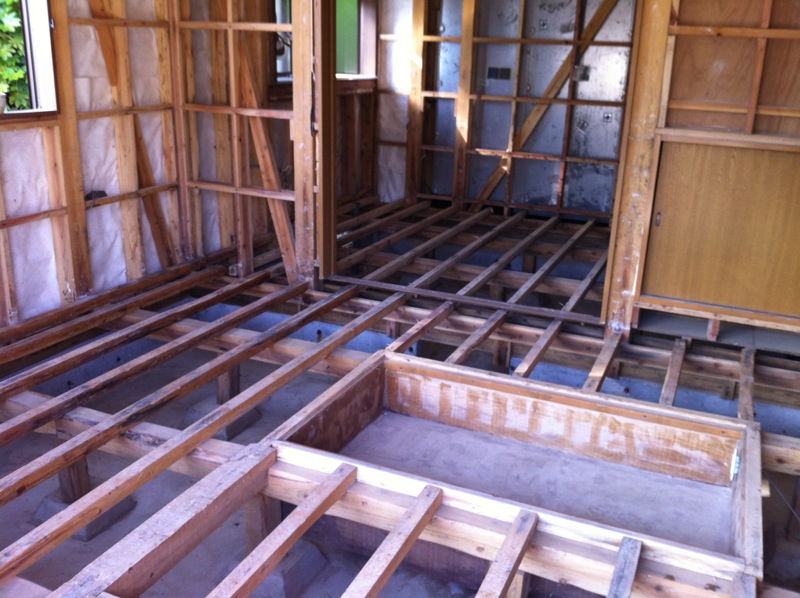 Each day we would enjoy our lunch break on the beach nearby…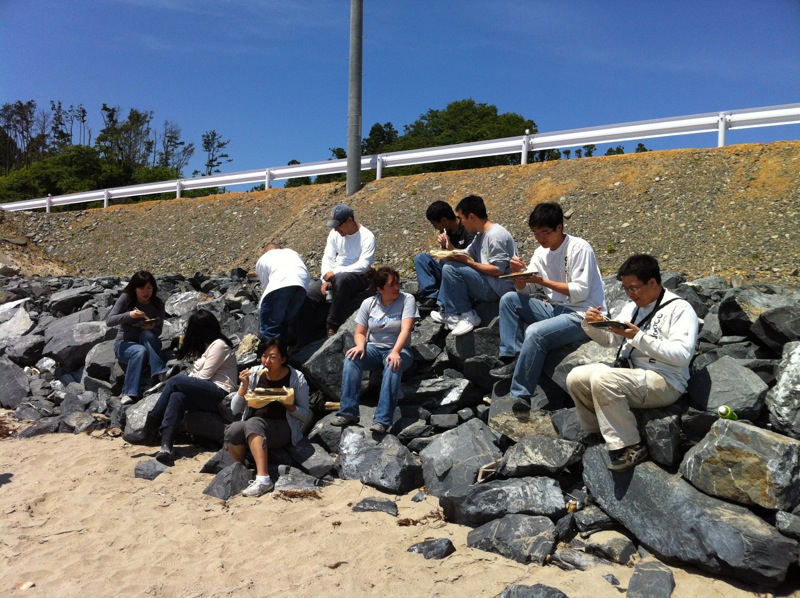 The coastline in this area was just gorgeous and it was hard to imagine how angry this same ocean was back on 3.11.11.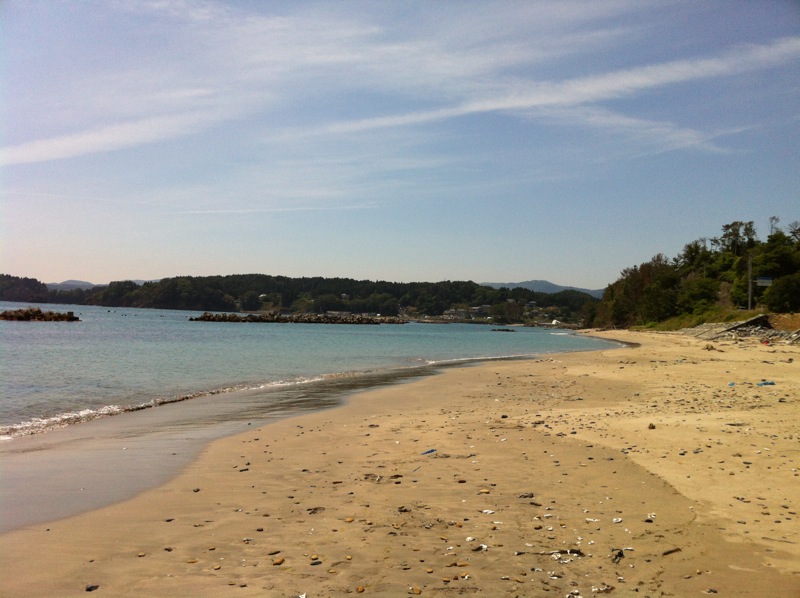 Samaritan's Purse has been able with the help of volunteers like this team to reclaim over 500 homes over the past year, working out of three different base camps. We thank God for their faithful efforts here in Tohoku. Following a few days of work with SP we made our way north to the city of Ofunato, linking up with United Project (an NPO which is connected to our Japan Covenant churches), which is in turn serving in a larger network called the "3.11 Iwate Church Network". The "3.11 Network" has been the main channel of service for our Japan Covenant Church as we've attempted to plug in to relief efforts over the past 18 months.
The first task for the Newsong Team in Ofunato was to take part in a "summer festival" being planned and sponsored by the 3.11 Network in cooperation with two local community centers. We set up tents along the river bank, offering free food, games and crafts for children, a massage corner, mini-concerts throughout the day, and other various happenings. The goal was simply to reach out to local folks in the area with the love of Jesus in this very tangible way. About 300 local residents visited the summer festival between the hours of 10 a.m. and 3 p.m. Ofunato is the largest coastal town / port city in Iwate Prefecture and was very hard hit from the tsunami. On this day, we were able to hear the stories of many residents and to get a small understanding of the kinds of struggles that they are now enduring in their attempts to get back on their feet. Here's a few photos: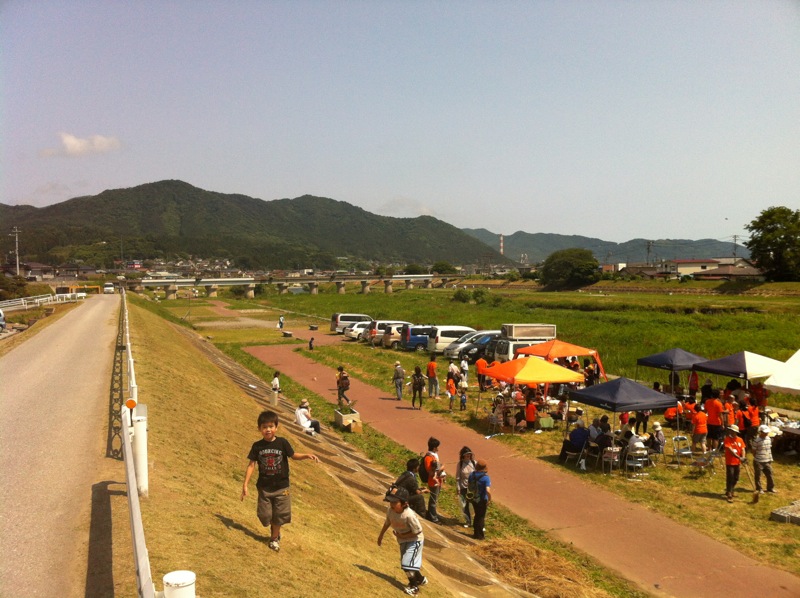 Above you can see volunteers setting up our tents and booths. The Newsong Team operated a BBQ that put out delicious hamburgers! About 60 volunteers from the 3.11 Network helped with this event…below you can see all of us gather for a time of thanks to God and a group photo.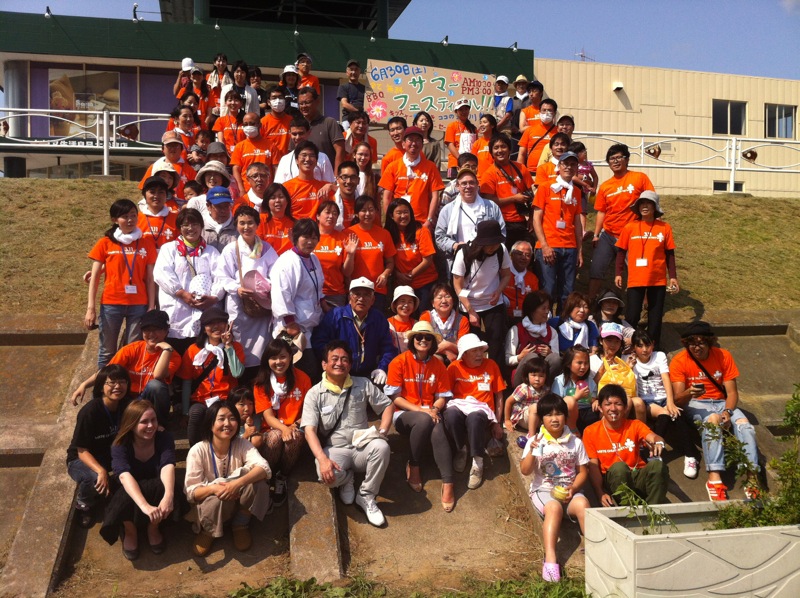 Following this summer festival event the Newsong Team spent the weekend in the city of Morioka, meeting Pastor Kondo and other leadership of the 3.11 Network and taking a couple days to relax a bit and do some laundry! It was a good chance to meet for worship with Japanese brothers and sisters as well. On Tuesday morning we had a final prayer together outside the Morioka Bible Baptist Church before heading back to Ofunato for our last three days of service.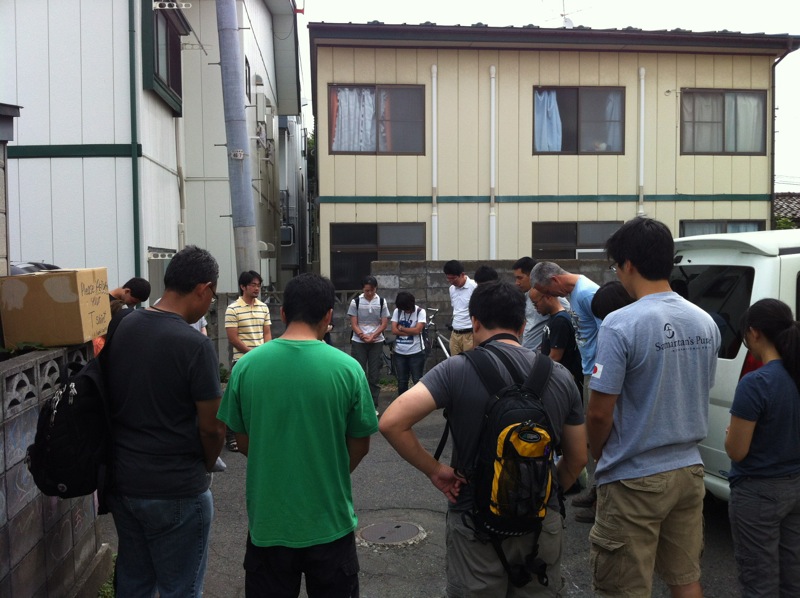 The team's final days consisted of a variety of work. We split into small groups and went various directions. Some helped with various craft and English teaching programs and interacted with residents of temporary housing units. Hundreds of families were displaced when their homes were washed away…these housing units provide shelter and new communities for many. Below is a photo of another BBQ we hosted and the group that gathered: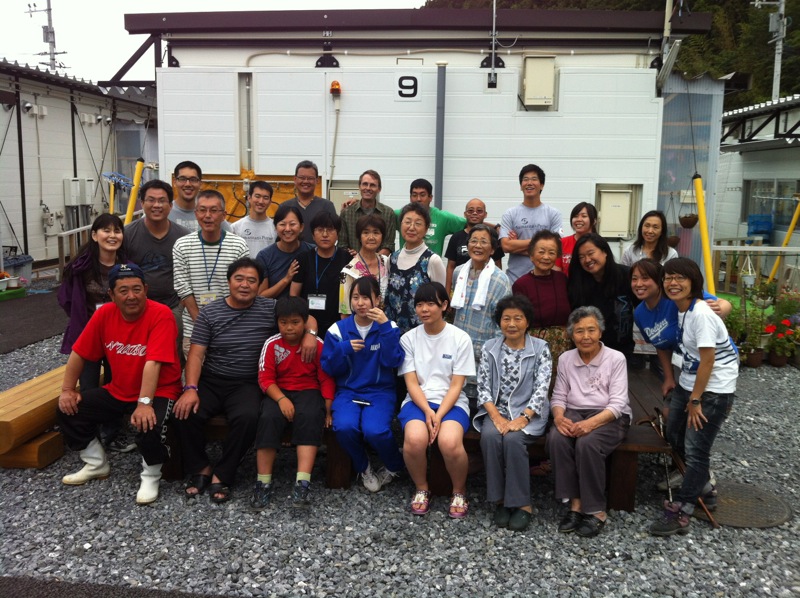 Our son, Sky, was able to join the team for the last few days in Ofunato and he quickly fit in, enjoying helping with the BBQ and playing with other kids that lived in the temporary housing units. Here he is befriended by one of the residents: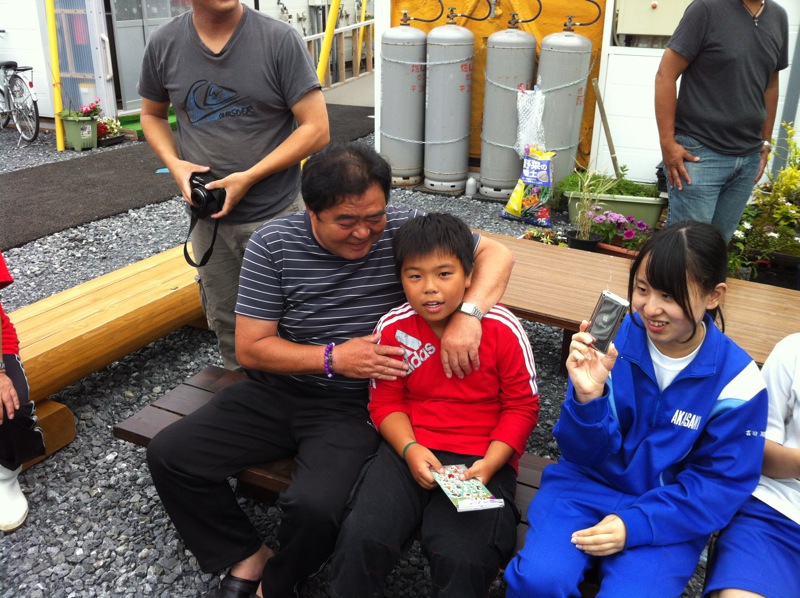 Others worked at our "new" base camp in Ofunato – Grace House. This was a home that was ruined by the tsunami and left abandoned by the owner. The 3.11 Network has been able to fix up this home and begin using it to house staff and volunteers. The Newsong Team was the first group to use it as our base camp! In one of the temporary housing areas we were able to set up a small carpenter's bench outside and build shelving and other small items for folks who lived in these units.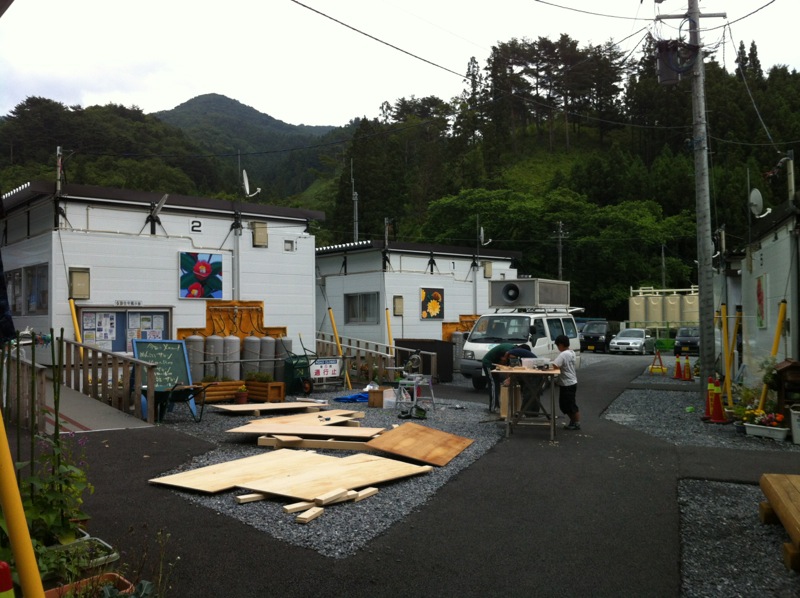 Here is one of the units we worked in our final afternoon. We were able to build some necessary shelving for Mrs. Kurota, who lives here in these two small rooms with her sister and three children.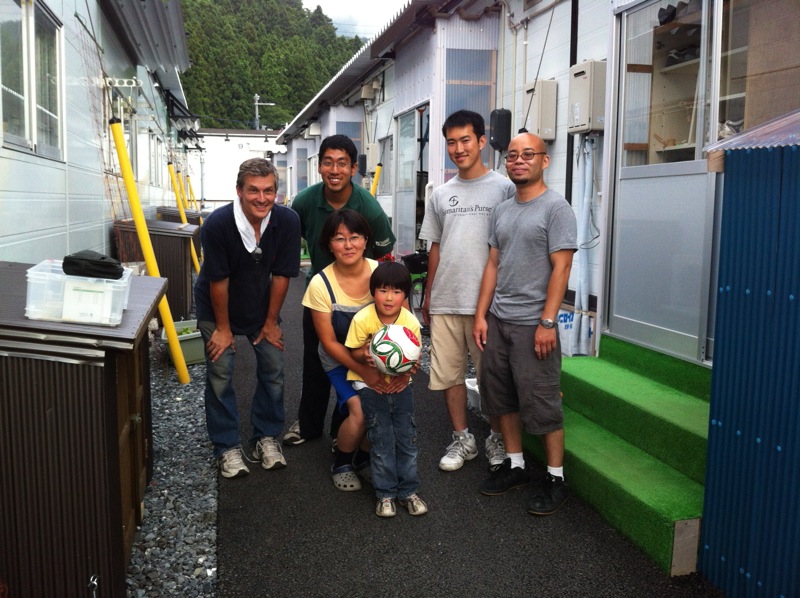 On our final morning we spent about an hour walking around the ruined port area of the city (down by the former main train station) and praying for Ofunato and for its people. It was sobering to both consider the struggles that this city has and is going through… as well as to pray for God's mercy and leading in our lives as we continue to serve and attempt to reach out in the name of Jesus.
The task seems so large and impossible and our own efforts so small. Yet, we believe in a great God who loves this city and these people beyond anything we can even imagine. One of the things that impressed me about our two weeks of service together was to see and realize how God works in the background (often unnoticed by us), bringing together resources, volunteers, and needy people in a way that would be absolutely impossible for any of us to plan on paper or attempt on our own. "Thank you God!" was the cry of our hearts as we said goodbye to the staff at Grace House and headed back to Tokyo.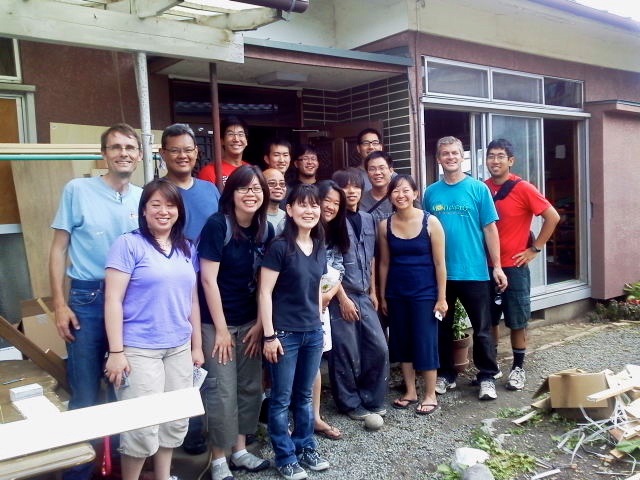 For more details and some excellent photos from this "Newsong Japan Team 2012" adventure please visit Jim Peterson's blog and read his 7-8 posts dealing with this trip:  Jim's blog posts for the Newsong Japan Team 2012
For a few video clips you might want to visit a vimeo channel that I put together. These are short clips that are basically unedited but will give a good feel for the experience: