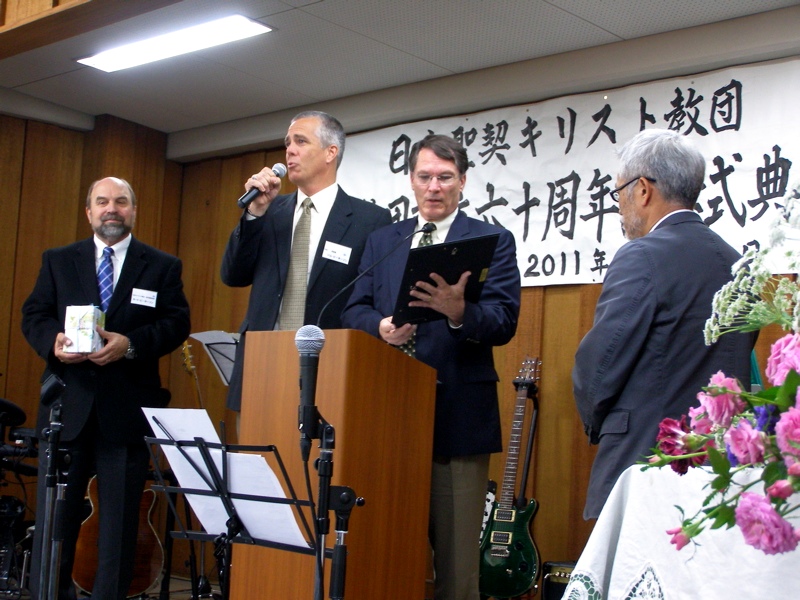 (photo: President Gary Walter of the Evangelical Covenant Church presents a plaque of recognition and congratulations to Rev. Shimizu of the Japan Covenant Church.)
Dear prayer partners,
It has been a full 6 weeks since we last wrote. A lot has happened. Here's a brief look at the past few weeks with another list of prayer needs at the end. Thanks for taking the time to read and pray….
60th Anniversary Celebration for the Japan Covenant Church
On May 3rd we enjoyed a fairly simple but fun day at the Covenant Seminary Chapel looking back on 60 years of history and looking ahead to our dreams and shared challenges. Gary Walter, president of the Evangelical Covenant Church, and Curt Peterson, executive minister of world mission for the ECC were our guest speakers. We were so blessed and encouraged by their messages to us.
Gary Walter:  "Hope shows up when people who care show up!"
Curt Peterson: "Remember, Forget, Dream…"
I'll let you imagine the rest of their sermons but they were dynamic and timely given the celebration as well as the present disaster that Japan finds itself in.  (Article on the NSKK 60th)
Worship bands from the Nagaoka Church and the IBF congregation led us in a time of music and worship. (Brief Video Clip from the 60th)
Relief and Rebuilding for Japan
Since we last wrote Tim was able to make two trips to northern Japan. The Japan Covenant Church is continuing to support various relief efforts but is concentrating our resources and volunteers in the city of Miyako, in northern Iwate Prefecture. Actually we are partnering with a group called "3.11 Iwate Church Network" a group of churches attempting to be the hands and feet of Jesus to many towns along the Iwate coastline that were devastated by the tsunami of March 11th. To read the story of Tim's first trip north and see some photos you might want to jump over to Jim Peterson's blog. Read all his posts relating to the earthquake for a great overview of the situation and some excellent photos. For a few of my own photos you might look here.
Visit from our Regional Coordinators
We enjoyed a brief visit with Peter & Ruthie Dutton who are serving as regional coordinators for our missionary staff in Asia. They were able to be with our entire Japan missionary staff one day as well as visit many NSKK ministries. Tim was able to take them up north to Iwate to visit our partners and see the relief work that is going on from the base camp in Miyako. You can see a few photos of that trip here.
Family News…
We are feeling a little panicky as we look ahead to what may be quite a busy summer.
Sam is getting ready to visit Okinawa in a couple weeks with the high school track team from CAJ. They will be competing against other Pacific area schools. He looks forward to lifeguarding up at Lake Nojiri later in the summer.
Lilla and Sky are busy finishing up their school year at CAJ and considering their summer options.
Andrea continues to teach at the Women's University until the end of July and then will be traveling to Chicago for a week of intensive classes as she begins a certificate course in Spiritual Direction.
Tim is thinking particularly about the Akagi Bible Camp these days and preparing for a busy season there.
We're also looking forward to some family and friends visiting us in the next couple months.
Prayer Needs…
Please pray for Japan in the months ahead. We are now "out of the news" but the needs continue. Relief and rebuilding will be long term efforts. Pray for our family as well as our Japan Covenant Church for God's wisdom about how we plug in to these efforts.
Thanks for praying about our Johnson Family Schedule for the next three months or so! May God knit everything together in the best possible way.
Thanks for remembering the Akagi Bible Camp and for Tim's role as chair of that board. General maintenance, kitchen staff, camping programs…. are all areas where we are focusing our prayer. Thanks for joining us.
Your partners in prayer and mission,
Tim & Andrea Johnson
Sam, Lilla & Sky