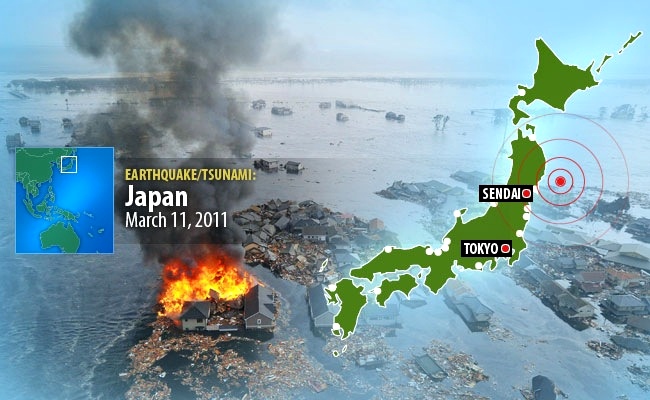 Dear friends and supporters,
The 9.0 magnitude earthquake and resulting tsunami that struck Japan on March 11 at 2:46 PM has of course changed life for everyone here. The tsunami-caused accidents at the Fukushima nuclear power plants add another dimension to the difficulties and anxiety. You have all seen video clips and heard lots of news. We are now at the three-week mark since the quake and while groups and individuals are struggling valiantly on most fronts it is clear that so much is broken – homes, villages, businesses, local governments, and most tragically peoples' hearts and lives. We are well past the 20,000 mark for confirmed dead or missing….how much higher will it go?
As a mission family we have been well protected. Each has their own story to tell of the quake and how we experienced it but the truth is that most of us have seen no more than you in the United States…. we've seen the same video clips and although we're only 200 – 400 kilometers from much of the devastation we have not been able to move or travel freely. Trains and highways were shut down and only now are beginning to return to normal. Gasoline and kerosene were rationed at first and are still hard to find in certain areas. Jim Peterson was able to travel with one relief group for about a week in several of the severely affected areas…. two of our Covenant churches have been directly involved in setting up an organization that will provide relief and help over the months ahead. Our brothers and sisters from the Taiwan Covenant Church have already sent an offering and assessment team to see how they can become involved. And all of us will be finding and discovering how God desires us to be involved in the long road to recovery and healing that lies ahead.
Last Tuesday (March 29) we met as a mission family here in the Tokyo area for the first time since the earthquake and had a time of worship, prayer and discussion. How are our ministries and families affected by this tragedy? How should we prepare for further earthquakes, should they occur? What should be our response to the ongoing problems at the Fukushima nuclear power plants? There are no easy answers but we feel very prayed for and supported, both by all of you on our support team, as well as our colleagues and administrators at Covenant World Mission headquarters in Chicago.
Of course, life on other fronts has not stopped. Our commitment to the Isesaki Church continues, Andrea begins teaching again next week at the Women's University, the children begin their classes again at the Christian Academy next Monday. It's difficult to know how to plug back into everything with the crisis and needs continuing in the north and other effects all around us. We find that our concentration (even for mundane and seemingly simple tasks) often fails us.
And so, we ask you this month to join us in special prayer for the nation of Japan. We believe God cries along with Japan and us in this dark hour. And we believe God can and will work through even the most difficult and impossible situations in redeeming this country and its people. Thank you for being part of that whole process.
Please pray for continued protection and help for the 250,000 people in northeastern Japan still living in shelters, schools, etc. There are thousands who are also displaced because of their proximity to the nuclear power plants.
Please pray for safe and effective solutions for the multitude of issues relating to the damage at the Fukushima Nuclear Power Plants.
Please pray for unity and good communication between national church groups, missionaries & relief organizations as they attempt to serve together in this time of crisis and need.
Please remember the members of our 23 Covenant churches as we pray and seek ways to be light and salt at this time.
Please pray for us as a family –  as we take some time to talk and pray over our short-term, mid-range, and long term plans for our ministry and family needs in light of the present situation.
Thanks for being there and for your prayer.
Your partners in prayer and mission,
Tim & Andrea Johnson
Sam, Lilla & Sky