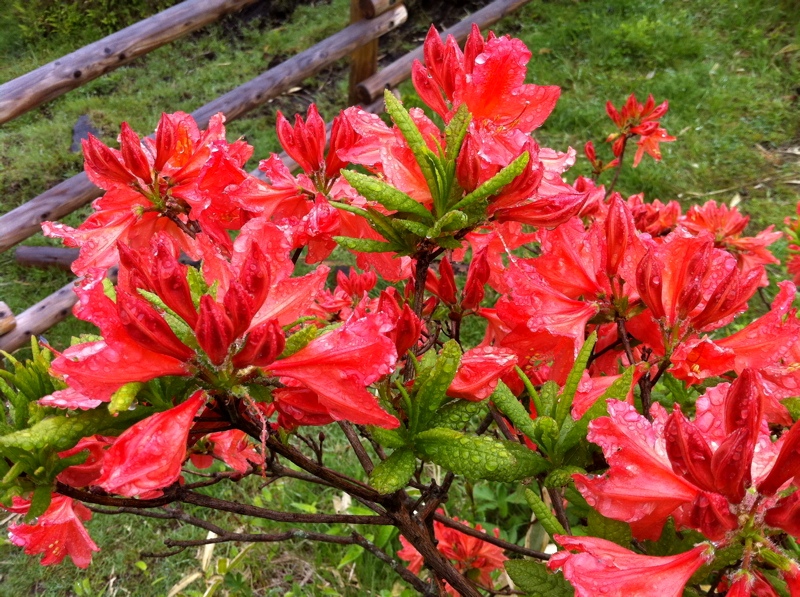 (photo above is of the gorgeous azalea which are blooming all over the top of Mt. Akagi… taken on June 17)
Dear friends and partners,
Please forgive the lateness of our bulletin this month and allow us to combine June and July into one correspondence. Thanks as always for your faithful prayer work on our behalf, especially as we head into some very busy summer months.
Akagi Bible Camp
Allow us to focus this month on the work of our camp, the Akagi Bible Camp, or "ABC" for short. Tim has served on the board for many years and usually things heat up around May and June as we begin to work on the buildings and grounds, as well as plan for the various programs and groups that will be using the facility. Since Japanese schools don't start summer vacation until July 20, our season is short with several camps happening between July 25 and the end of August. Although we have traditionally opened the camp from May to November we are presently without a full time manager so we are limited in how many groups we can accommodate.
This summer we will be even more involved than most years as Andrea has taken on the role of directing the kitchen and meals for several of the camps. Tim will also try to be there as much as possible so we would really appreciate your prayers for us as we try to handle tasks that are new to us. During our first camp of elementary students (starting July 25) Andrea will be in Chicago to begin a study program in spiritual direction. She's scheduled to return to Japan on August 2nd, with the high school camp beginning on August 3rd. You can see that we don't have much leeway for error or jet lag in this schedule. But we're excited about new possibilities at ABC and for the opportunities to have many hear about Jesus in this wonderful environment on top of Mt. Akagi. The English part of the ABC website has been overhauled and you can learn about the camp and see some recent photos and videos by visiting the new site here:
Akagi Bible Camp (New English Website)
To view a video of the recent work camp on June 3-4 at ABC you might want to check this out:  ABC Work Camp 2011
Relief Work in Northern Japan
There is so much to say about this… but in this bulletin we will just direct you to TIM'S ARTICLE that he posted on Andrea's blog last month. If you haven't read it yet, you might want to take a quick look. There are several photos there as well. Tim plans to accompany another group to the Miyako area in Iwate Prefecture from July 4-9.
Family News
Sam has been spending this week with 22 other high school students from Christian Academy, working in the Sendai area and helping out in a number of ways with relief efforts. They have hauled garbage, cleaned out homes, cooked meals, and used soccer games to have fellowship and interaction with Japanese students in the area. We pray that God will use this week in an important way in Sam's own life and heart too.
Lilla and Sky have been busy around the house, trying to get used to summer vacation and how to spend their time. Sky's attending special classes to help him continue to improve in his reading and writing – and playing soccer every day. Lilla is looking forward to going to Joy Bible Camp next week, a good chance for her to attend an English language camp.
As mentioned above, Andrea looks forward to being in Chicago for a week in July, but before that happens she continues to have a full teaching schedule at the Women's University in Gunma until July 15th or so. Tim's mostly involved at ABC and the Isesaki Church. As we requested last month, thanks for praying about the smooth "coming together" and "flow" of our family schedules this summer. We feel so blessed to have so many opportunities for service, and believe it or not, we're planning some days off in August too (although we haven't quite nailed down exactly WHEN they will be.)
Prayer Corner
Please continue to pray for Japan, particularly northern Japan as they struggle with so many issues and difficult problems after the earthquake and tsunami. Pray for Christians and the church in Japan to grow strong and healthy as we get involved in offering help and hope during these difficult times.
Please pray for ABC – particularly for the smooth functioning of the kitchen this summer and for just the right volunteers for each camp. Pray that many will hear and accept the good news of Jesus.
Please pray for all the details and content of Andrea's trip to the US on July 22 – August 2. Please pray that her studies will be challenging and encouraging.
Thanks for praying for Sam, Lilla and Sky, each of them different and on their own unique journey. Our prayer is that they will each know their Creator from the time of their youth (right now!) and for that knowledge and relationship to grow into the future.
Thanks for words of encouragement and communications from so many of you. We couldn't be here without you.
Your partners in prayer and mission,
Tim & Andrea Johnson
Sam, Lilla & Sky