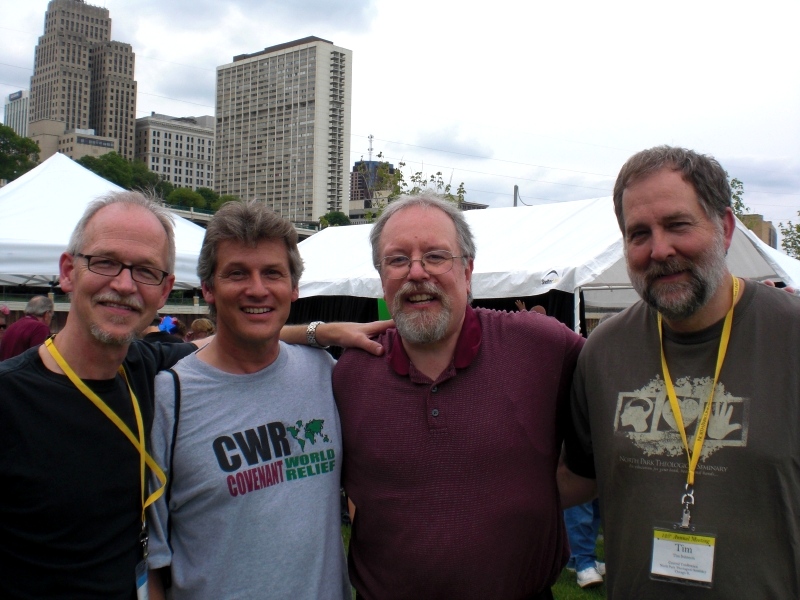 photo: There are many "Timothy Johnsons" who are pastors in the Evangelical Covenant Church. 4 of us happened to be in the same place during our ECC annual meeting celebrations…couldn't resist a photo.
Dear prayer partners,
Allow us to briefly combine our prayer bulletin from July and August. A lot has been going on and we want to take a moment to share the joys and concerns for these two months.
REJOICE WITH US…
We have been able to visit 25 of our 31 supporting churches over these past 6 months. How wonderful to reconnect!
Sam, Lilla & Sky all had really great experiences in their respective schools here in Geneva, IL.
All three kids have also had the chance to attend a summer bible camp for a week.
In June we attended the annual meeting of the Evangelical Covenant Church in St. Paul, MN (Tim's first since 1998, Andrea's first since 1993). A wonderful week.
In June we were also able to see family in Minnesota, gathering for Rick's burial service on June 18 in Foley.
On July 22-25 Andrea was able to attend Triennial XIII in Washington, D.C., a conference for women of the Covenant Church from all over the world.
God has provided for ALL of our needs during these 6 months….that is easy to say now, but was a source of anxiety as we arrived in the U.S.
Sky's US passport arrived in the mail this morning. This story is too long to tell, but suffice it to say we are grateful and celebrating tonight!
PRAY WITH US…
For strength and clear thinking as we finish up our last 3 weeks here in the U.S.
For a week-long gathering of missionary colleagues and staff from our department of world mission that occurs in Chicago on August 2-8. This will be our last "official" activity before getting on the plane. We look forward to that time of connecting in meaningful ways with many of our colleagues.
For safe travels….for Tim and the children as they fly on August 10th to Tokyo…for Andrea as she flies the same day to Seattle to spend a week in that area before joining us in Tokyo on August 18th.
For guidance as we begin to make the transition to our life as a family in Tokyo. Some of our connections and ministry in Gunma will continue but over the next few months we are praying that God will show us clearly what our work and priorities should be, and what changes need to be made.
For a smooth start for Sam, Lilla & Sky at the Christian Academy (CAJ). The school year starts on August 25th….
For the Holy Spirit's power and indwelling….we need much more of this and less of our own plans and strength!
Thank you so much for standing (and kneeling) with us.
Your partners in prayer and mission,
Tim & Andrea Johnson
Sam, Lilla & Sky