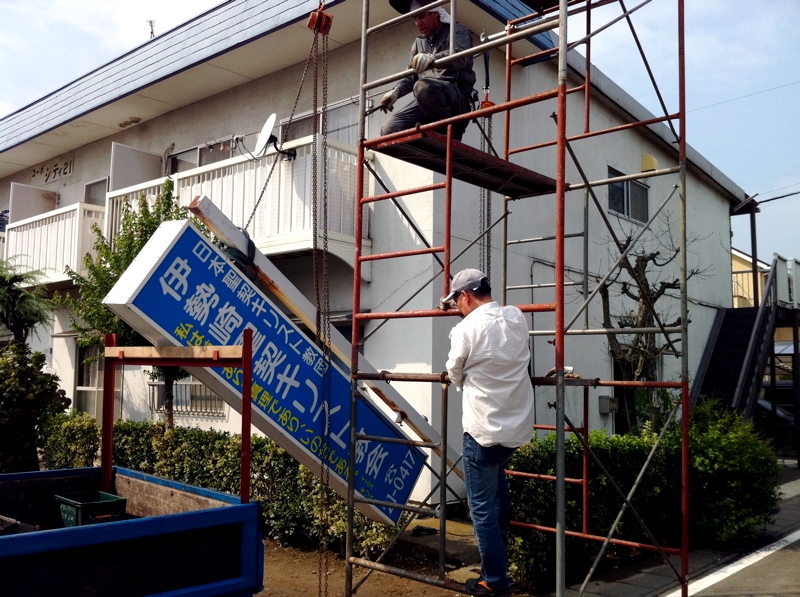 (photo: The sign for the Isesaki Church comes down after being there for 22 years. The church is moving this week to a new location, sharing a building with a Brazilian congregation about 2 kilometers to the south.)
Dear Prayer Partners,
Please forgive our lack of communication in September. Hopefully this note will provide a bit of missing information.
REJOICE WITH US…
We all arrived safely in Japan in mid-August.
We were able to move all of our belongings from Gunma down to our rental home in Tokyo. While things are not exactly put away and organized yet, we see some light at the end of the tunnel.
Sam, Lilla & Sky were able to begin the school year at the Christian Academy in Japan (CAJ, located in Tokyo) on August 25th and are all enjoying their new environment.
While it is a bit of a distance up to Gunma (about 90 minutes by car on the highway) we have been able to reconnect with friends and partners there as we seek God's leading for the months ahead.
In fact, the Isesaki Church is actually moving out of their rented space this week (last worship on 9/26) and will begin sharing a building with a Brazilian congregation a couple kilometers to the south of us on October 3rd. They made this decision back in February while we were in the US but it has taken awhile to get all the arrangements in order. Just this past week we have taken down signs at our old location, put up a new sign at our new location, packed up boxes of items to carry over, and built a new room in our new location that will serve as our church office. There is a mixture of sadness – as we say goodbye to a location and "place" where we have spent so much time worshiping and praying together –  as well as excitement, as we look forward to what God will do among us as we seek to serve the Lord out of a different context.
PRAY WITH US….
that our children will continue to have a good experience at CAJ and that the Lord will work in each of their lives.
that we will be able to quickly get settled in our new digs here in Tokyo.
for the Isesaki Church as they move this week! Pray that we will be filled with joy and excitement as we begin this new adventure with our Brazilian brothers and sisters in reaching out to the south part of Isesaki together.
that God will continue to lead us in arranging our lives and schedules as we attempt to serve from a new location here in Tokyo.
Thanks for your prayer support! We are incredibly grateful during these busy days to have you on our support team. Take a look at our website for a few new photos if you have a moment:    Johnsons in Japan
If you haven't seen Andrea's blog you might enjoy a few of her offerings:    Matcha With Me
Your partners in prayer and mission,
Tim & Andrea Johnson
Sam, Lilla & Sky