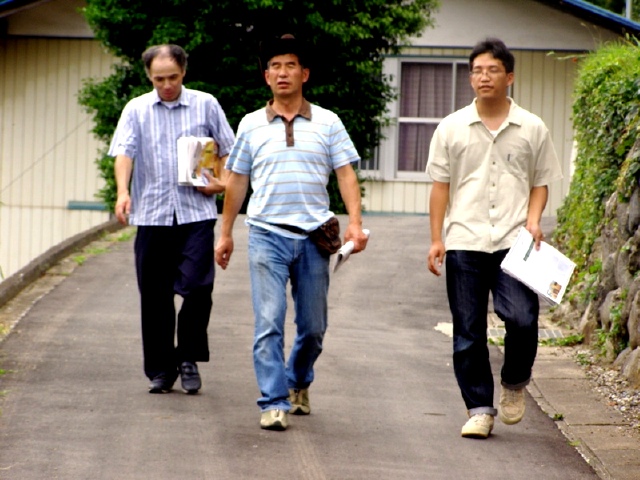 (photo: L to R, Mr. Masuda, Pastor Watanabe, & Mr. Igarashi who were along today to visit homes.)
The town of Kanna in southwest Gunma was formerly made up of Manba Town and Nakazato Village. They joined together in 2003 as part of the consolidation efforts going on all over Japan in order to further streamline local government. In actuality their coming together was much more driven by a need to survive. Both Manba and Nakazato, like so many other villages and towns in rural Japan are in decline. What few youth there are leave in order to seek education and work. Those who remain are rapidly aging and becoming the majority. About 50% of the population of Kanna (3,200) are over 65 years old!
Today (July 16, 2007) we spent about 2 hours walking along paths and roads, distributing some literature to the various clusters of homes. The town continues along for several kilometers along the Kanna River. Most of the homes are along the main road which follows the river. We have fairly extensive and detailed maps and so an occasional ten minute walk up the hill into the woods will be required in order for us to reach that "out-of-the-way" house. As with Uenomura, the first village we visited, there is no church here in Kanna and we are not aware of any followers of Jesus. Many homes seem deserted or people are out in their small fields up on the side of the mountains. We are grateful for a few conversations with local residents today. "Lord, please help us to know how to proceed and what it is You would want from us in regard to this town. Lead us to those people who are most open to hear."  Here are some photos of today's visit.