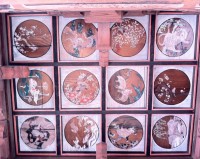 Conformity and Individuality
09.14.11
Two Sundays a month I help with a small Japanese church in Gunma, and the other Sundays I attend a large international church (KBF) with my kids here in Tokyo.  The contrasts are pretty startling: the Japanese church usually has around 15 in attendance, and unless Tim is there, music is fairly nondescript. Programming is simple or nonexistent. The international church always has great music, and usually 2-300 people of all ages in attendance with programs ranging from Alpha to parenting  to human trafficking seminars. In the beginning I felt awkward going back and forth, startled by the disparity of human resources and possibilities. This year I'm feeling more at ease switching worlds and have begun to reflect about what I have to offer and what God offers me through each place.
Last year I team taught the middle school Sunday school at KBF; this year, I'm leading a week day bilingual Bible study, so I was looking for a low key way to connect . After worship I attended a fellowship group  to discuss the English sermon in Japanese, co-led by two Japanese women. I thought it would be a good opportunity to listen in on how Japanese respond to the content of a sermon neither my husband nor I had any stake in. It promised to be both culturally and linguistically intriguing.
It was both.  One take-home-and-enjoy-in-depth-later thought was how culturally conditioned our understanding of Scripture is. Romans 12:2 became a topic of conversation. Do not conform yourselves to the standards of this world, but let God transform you inwardly by a complete change of your mind. Then you will be able to know the will of God- what is good and is pleasing to him and is perfect. What comes to your mind when you read this? What pressures to conform to this world do you feel, and what direction does the gospel tug you away from that?
Not so very long ago many Christians felt that going to movies and playing card games were evidence of conforming to the world. In some of our families, perhaps fashion, hair style, smoking, alcohol consumption or body piercing were included. A hot topic for many Japanese Christians is how to behave at a Buddhist funeral- whether to light incense for the deceased. (However, I haven't heard many US Christians struggle with whether or not to lay flowers on the graves of those they love regardless of the deceased's worldview.) What struck me afresh during this conversation was the intense pressure from Japanese culture and from within to act in a way which preserves harmony with those around. Of course I've known it is there and watched it at work. At times I've greatly benefited from it and received undeserved grace from others because of this cultural dynamic while at other times I've been cavalier about bucking the system when it feels constricting. If I were to look at the parallel dynamic in my own US culture, what would it be?
In the US most of us Christians believe we have the right to order our personal  and public lives as we wish so long as it is not expressly against God's or the country's laws. One could say we are under intense pressure from within and without to be individuals, to do whatever we want. But is this actually in line with Scripture? Scripture shows us a Jesus who did not please himself. Instead, while listening carefully to the Father, he acted for the good of those around him even when it was not personally fun or well received. It seems to me that both ends of the continuum- that represented by Japanese group culture on the one hand and US individual culture on the other- as well as our own motives need to be subjected to prayerful scrutiny.  Sometimes the pull of God against our own culture will require us to take action that FEELS awkward or wrong, but if honored will lead us towards being more like Jesus…who knew and lived  the will of God.