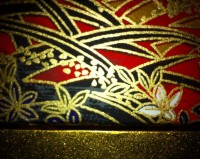 What's This?
09.28.11
The day before the earthquake I went downtown with a friend to buy Japanese washi paper. The store was amazing; two floors packed floor to ceiling with washi of every color and design imaginable. In addition to paper for covering eggs, I chose several large sheets in a rich red, gold, grey and black harvest theme. I don't have a great track record for completing craft projects- a combination of too many interests, too few like-minded friends and a busy life have all worked against me. So for years I held back from even getting interested or buying supplies. That day though, I came prepared to splurge because my egg-making mentor had promised to show me how to cover a tea box.
Tea boxes are used to ship and store dried tea leaves. Produced in a wide range of sizes, from small enough to hold recipe cards to large enough for a child to hide in, their unique shape and sturdy tin or zinc lined construction make them useful for storing moisture sensitive items in the high humidity of Japan.  I'd accumulated a few old and battered ones over the years, always hoping to do something with them someday.
Immediately after the earthquake, covering the tea box seemed impossible and irrelevant. Everyone's lives were in some measure of chaos; even those of us who were not in immediate danger felt that life on this side of 3/11 was different. Who really had time for such big projects with seemingly no meaning aside from beauty anyhow?
On this side of summer, life has calmed down a bit.  Last week my friend suggested we get started, so this afternoon was spent measuring, cutting and pasting. I got so caught up that I kept working this evening and flicked on the news which included a feature on rice harvesting in Miyagi. The tsunami dumped saltwater and detritus on a 400 mile stretch of coastline, some of the best rice growing areas of Japan. While many of the devastated fields sit barren, some have been successfully desalinated through painstaking irrigation and repeated excavation and aeration of the heavy soil. Rice, a symbol for life here, is being harvested again. My box isn't exactly a rice harvest, but thanks to a patient and encouraging friend, that old tea chest which sat for years gathering dust and seemed headed for the garbage has taken on a new assignment as a coffee table/game chest in our living room. And my stunted creativity? Well, I'm already dreaming about the next project…