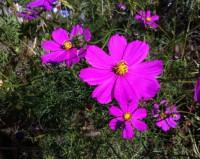 The River And A Duck
11.21.11
Today on my walk the river and a duck taught me a few things. This river is really tiny, hardly deserving of the title "river," or so a friend announced to me a few months ago. "That's a river? Why, in my part of the US, that would hardly be called a creek!" I had sidestepped the derision at the time, since I could easily hear myself saying the same thing twenty years ago, but the comment remained in my memory.
This morning as I walked I felt particularly fragmented. Last week had been filled with people, meetings, much work outside of my gift set, and disappointments in myself and others. The early morning had been filled with sadness and anxiety over a very needy person and my inability to help. As I walked, my eye was caught by a contented duck perched on the bank of the river where it turned slightly deeper and went under a bridge. The sunlight illuminated the early winter palette of dry grasses, mud, water, and concrete, revealing delicate hues I'm not normally drawn to. As I stared into the water, at first I thought I saw fish- but it was only narrow leaves caught up in the current. They spun and moved a little from side to side, carried along submerged in the cold clear water, following an invisible inexorable pull downstream.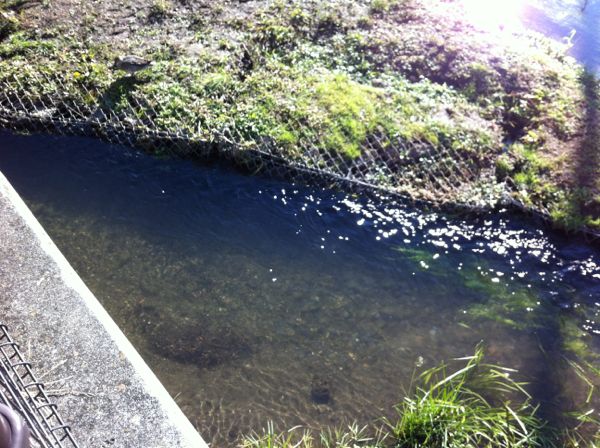 Something made me look again, and this time, under and beyond the dead leaves and grasses floating down the river, I saw a fish dart. It was unmistakably a fish because its body bent, then straightened, flexed again, then switched directions- first downstream, then up, then over to the bank. And there were more! With a little persistence, my eye soon distinguished between the leaves and the fish, and I was amazed at how many lithe gleaming fry there were. I smiled in thanks at the duck and continued on my way. My life isn't all just detritus caught up in the demands of the day; there is life, and with a patient eye even I can see Life in my life, surprising me like those little messengers of God thriving unfettered in the frigid waters of a tiny urban river.