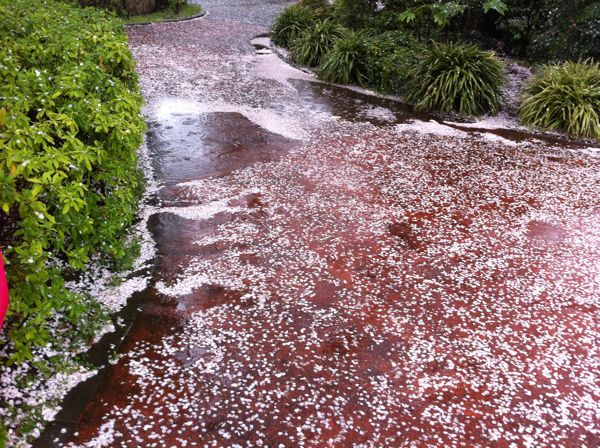 4/11 Earthquake Update
04.11.11
This afternoon, almost timed with the one month anniversary of the earthquake, the wind picked up, the sky darkened, rain poured, and uncharacteristically, thunder and lightning crashed in the dark sky above Tokyo. When I picked up my son from school, the cherry blossoms which yesterday covered the trees  and lightly floated on the breeze were drenched and collecting in sodden pools on the ground.
Just under 150,000 people are still living in schools, community centers, and other temporary situations. In a recent survey, almost half of these people have no idea where or how they will be able to find a place to live, or where or how they will be able to find work. Many are recently bereaved. For those who raised scallops or fished, it will be at least a year or two- maybe many more if they live near the reactors-  until their area of the coast is able to sustain their livelihood again. For those who worked in factories or shops, it is even less certain if or when they will be rebuilt.
In the town of Rikuzentakada, 1162 surviving families lost their homes. Today the first temporary housing units (32 of them) were completed on the athletic field of the junior high school. An interview with one single mother, a school teacher, and her two girls showed their complicated feelings: the 13 year old said, "I'm not really sure if it is OK for us to be in here because so many other people are still living over there in the gym with no hope of moving soon." Another mother of two decided against even entering the housing lottery and made the heart-breaking decision to leave the area and try to begin a new life somewhere else. All those interviewed long for the restoration of their hometown, but how to stay alive in the meantime is the question.
Tonight I'm watching many tired people who are wondering how long they will be required to hang on. Human nature is such that when faced with a challenge, adrenalin kicks in and we can usually somehow face the crisis. But when the challenge morphs into something worse, then is distorted once again into an even darker, less distinct, more pervasive gloom, hope grows thin.
The milk we often drink comes from Fukushima prefecture, but that has changed lately due to radiation levels. However, cows still produce milk, and will get sick or go dry unless milked twice a day. So dairy farmers still rise early, carefully milk their cows, and almost as carefully, throw it all away. Tonight on one dairy farm, things were very subdued as the grandmother, grandfather, mother, father, and little sister waved goodbye to the junior high son who was being sent away to another city to attend school.  (Although it is the start of the school year, the local junior high had no plan to reopen in the near future.)  When will they be able to sell their milk again? When will their community return to normal? Or will it? Lack of clear information, lack of government leadership, and lack of viable strategies for recovery all make things harder.
In the last month, there have been more than 400 earthquakes with a magnitude greater than 5. Several would have made world headlines (7.2, 6.9, etc.) if they weren't eclipsed by everything else. While there have been a few quiet days, there were four earthquakes this morning between dawn and 6:30, and a large one this afternoon. I've lost count how many there were tonight.  Most people only bother to turn on the TV to find out where it was centered and how strong it was if it lasts for more than 60 seconds.
Recently there are a lot of public service ads featuring attractive, vital-looking young people saying, "We believe in the power of Japan." The lady doth protest too much, methinks. Japan has been shaken, is being shaken…not because Japan is particularly sinful, or careless about nuclear energy, or any other reason like that. A friend put it somewhat like this. Like the Israel, or the Suffering Servant, Japan is being shaken and tested because Japan was prepared, and can probably endure it. It is a severe mercy because this trauma reveals that human power is not enough. Japan needs the living God, and as Japan turns to God, all of the rest of the world is watching.