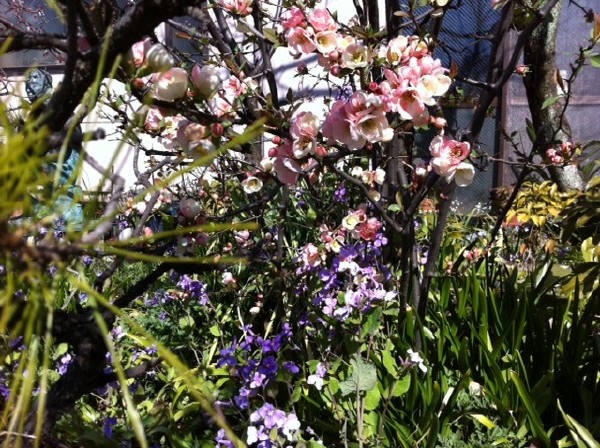 3/31 Earthquake Update
03.31.11
Nobody told them we were having a nuclear crisis. That was the first thought I had upon seeing these blooms  on a walk recently. Late March and early April is arguably the most beautiful time here in the Tokyo/Kanto area. The blue of the sky, the scents of warm earth, new green and a plethora of flowers are interwoven in the breezes. I usually notice this when I go out on the veranda to hang up laundry in the morning. There have been times I've almost had to dash back inside as if to hide from this beauty which calls forth life, action, and hope.
Tonight on the news Self Defense Force personnel were shown going door to door asking whether people in the stay-indoors-or-voluntarily-evacuate zone were OK and had everything they needed to survive. Several replied they had no kerosene for heat, and food was running low. One man in his 70s gently said that he would like to leave, but had no car, was half-blind, and would need help with transportation. He'd requested help from the city office, but had received no word back.
In another temporary refuge, two perky elderly women knelt on the floor in their knitted hats and winter jackets and peered intently at an advertising insert from a supermarket. With undisguised longing they reminisced how much they missed the highlight of their ordinary week – a Saturday morning trip to the grocery store to look for delicious bargains. One woman said, "Look! They have abalone for sale – that's delicious, but our teeth can't chew it anymore." The other responded in a wistful voice, "Fish…remember how we used to eat fish almost every day?" Both abalone and fish seem equally distant from the limited diet available at their temporary shelter.
Far fewer people seem to be around Tokyo this week. It's hard to know whether families with children have used spring break as a reason to leave Tokyo for a few days, or whether people just aren't going outside. My neighbors are around, but I notice that the dumpster seems only half as full as usual, and the grocery stores have less food and people. However, the lovely bike path along the river is getting a fair amount of commuter bicycle traffic since gasoline is still limited. Perhaps those passing by these flowers will appreciate them and say a silent thank you for their blooming as if no one had told them about the nuclear crisis.