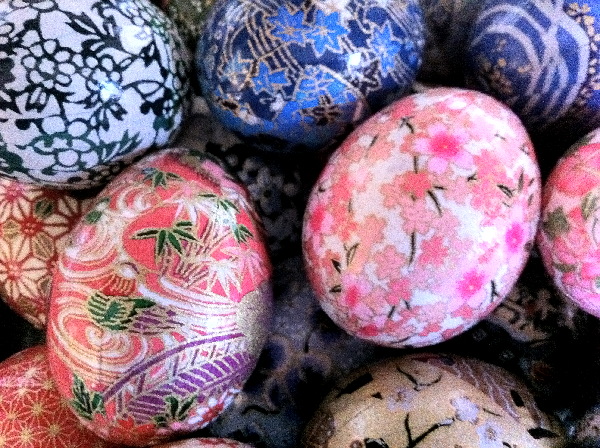 3/28 Earthquake Update
03.28.11
The last few months I've started a new hobby. It's making washi (Japanese paper) eggs, thanks to a very kind and patient friend. First you blow the insides out of  the egg through small holes, rinse it, and let it dry. Then you cut paper to fit the exact size of the egg. Both edges are cut into many leaves which gently nest against each other over the curved ends of the egg. Then the paper is dampened with glue, gently and precisely nudged and tugged into place, and left to dry. After drying, the seams are pressed flat with the back of a spoon, and five layers of shellac are in turn brushed on and left to dry. Generally I have a small batch of eggs at each of the key stages- ready to paper, ready to spoon flat, and ready to shellac.
Neither of us had felt like making eggs since the earthquake, so the other day was a special treat. While the kids played, we drank chai, shared our worries, God's faithfulness, and caught up on each other's lives as our fingers slowly and carefully brought beauty out of scraps of paper, wet glue, and empty shells.
In the midst of all the chaos and destruction of the last few weeks, that quiet afternoon was an oasis, and the eggs became a symbol for me of something much bigger. Beyond the colors and patterns, beyond the satisfaction of sharing peaceful moments with a special friend, they became a symbol of my call to reflect the work of the Creator through my life. Order out of chaos, beauty out of emptiness. With one part of my mind I've understood this, but in the wake of the earthquake, the tsunami, and the nuclear problems, I hear it afresh. And like my egg making, it doesn't come naturally, but is very worth the effort.