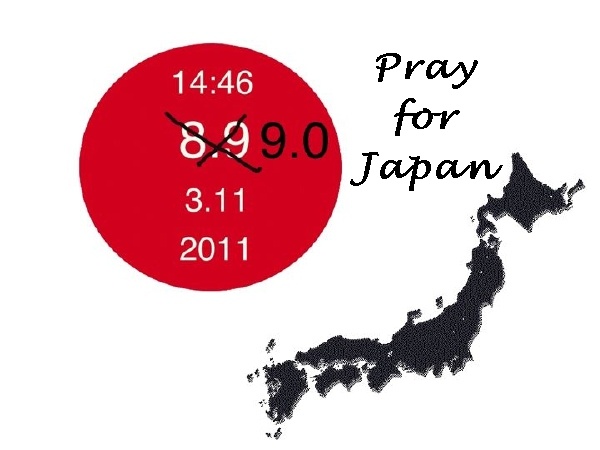 3/19 Earthquake Update
03.19.11
People are trying really hard to return to life as normal. News on the reactors was very limited today, which strikes me as odd since the situation is not much different than yesterday. If you haven't already found it, IAEC has a great overview and analysis that will be updated as the situation changes. Tonight it was reported that higher than legal levels of radiation were found in milk and spinach in Fukushima and a neighboring prefecture, so there will be further economic effects for farmers who are already having a difficult time transporting food to markets.
I find an increasing divide in how expats view the danger from the nuclear reactors; this chasm appears to be growing, and reminds me of the not-so-veiled hostility between some Democrats and Republicans back in the US. One group of people is proud to not have "fled" due to the "sensationalist" reporting of the news media. Another group of people is wary of the official line of the Japanese government (or any other government) and feel that being far away is a lot smarter till things become clearer. Of course, there are many other shades of persuasion, but as I read Facebook, listen to friends and scan news stories, I see the divide growing and it makes me really sad. I'm probably a little closer to the second group, but sincerely and with all my heart pray that I am wrong- something I don't usually pray.
Several towns that had been within the evacuation radius have been relocated; one town of 1200 people has temporarily moved into a stadium two prefectures away- but they can only stay there through the end of the month.   Twelve years ago the residents of a volcanic island (Miyakejima) were evacuated and lived as refugees for 3 ½ years; from this experience it became obvious that community disruption was a secondary trauma that should be avoided if at all possible.
I suspect that some of the different views of expats regarding relocation due to possible radiation danger are best understood in this light. Those who feel well connected with their communities would just as soon not leave; those who long for "home" find that longing intensified by concerns of possible physical danger. And being complicated human beings, we aren't always aware of our own feelings and motivations, so we sometimes "stack the data" one way or the other without really realizing it. Through this all runs the truth that we are better off connected than alone, made in the image of God, made for relationship and community. I think about this as I pray about our next steps.
Today I received sad news from stateside family, so perhaps my antenna are out for issues of  isolation, and dislocation. Like tens of thousands of people here, I'm not able to be with some I love to share their hurt tonight. This ache inside reminds me of the suffering of many, and in a small way, that solidarity eases my own loss.
Jim Peterson departed for Sendai with supplies today, and Tim (my husband) volunteered again in the CRASH office. What is shown on the news is the dire situation of thousands of people who are in desperate need. Hopefully supplies will soon arrive in the affected areas and distribution efforts will be speedy and well organized. I hear that a transport plane chartered by Samaritan's purse landed today at a base in Japan to load up with supplies, and should be in Sendai by tomorrow.
Tomorrow Tim will take the train to Isesaki to preach- hopefully the power outages won't mess up the train schedule too badly. I'm  a little envious, because the small group of folks in the Isesaki church have been one of our primary communities these two decades. I look forward to seeing them again.