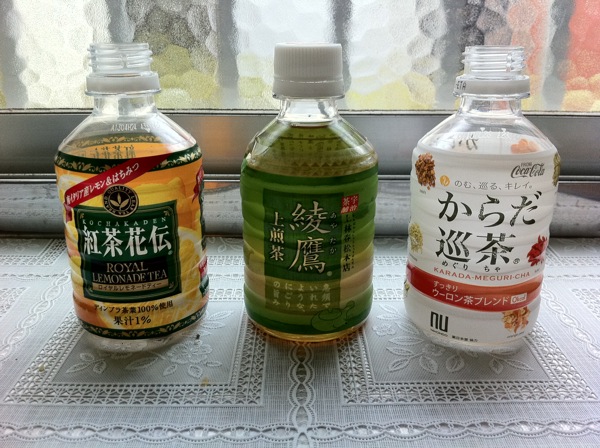 Lesson From A Pet Bottle
02.24.11
Twenty years ago when I moved to the rice-field turned bedroom town of Isesaki about 100 kilometers from Tokyo, recycling was almost unheard of. Home garbage was disposed of in two categories: burnable and non-burnable, which was dumped in landfill. Although this was also the norm in Chicago in the late 80s, my hometown of Seattle was already requiring mandatory recycling of aluminum, steel, glass and PET bottles. Japan seemed so orderly and neat that I expected it would have an efficient recycling system also. In Tokyo, there was a system in place, but the move to the countryside-turned-burbs revealed how localized it was.
I self-righteously fumed about the lack of environmental awareness, but soon succumbed to the pressures of daily life and limited language; after all, it was so much easier to not think about it too deeply…one large bag of burnable trash to put out on burnable day, and one (or more) large bags of non-burnable trash to put out on the other. Occasionally my conscience bothered me a little bit, but finding alternatives seemed overwhelming.
A while later, a seminar sponsored by the city office caught my attention. Aimed at housewives, it was on environmental awareness and ways to minimize our impact on the planet. I felt a complex mix of emotions: superiority that I was already aware of the issues; irritation that my language level was still so low that I probably wouldn't be able to understand parts of the lecture, read the handouts, or participate in any meaningful way; and incredulity that what I had assumed was an immovable wall was in fact not. My city was waking up to some of the issues it was facing, and would be making policies and crafting strategies in response. It did this with no help from me, and today Isesaki has a pretty good sanitation system including a pool heated by the waste disposal plant, recycling of aluminum, glass, steel, PET bottles, and voluntary but widespread recycling of milk cartons, ink cartridges, and even plastic bottle caps.
Somebody told me a long time ago that I was a lot like Jacob in the Bible, but I gave up too soon- I struggled and plotted, fought and argued- but abandoned the struggle before dawn, before receiving the blessing from God. Since then, I've tried to balance these two truths. Not all "causes" are mine to fight, but the ones that are, I must not weasel out of or quit too soon. My task is to prayerfully discern which are which, let go of the ones that are good but not mine, and continue to follow through on the ones where my name is written…not giving up hope or commitment in spite of apparent lack of results.
A future post will be about a seemingly "immovable wall" I am sensing a call to wrestle with. In the meantime, I'd love to hear about yours. And as I sip on some green tea from the vending machine, I'll keep in mind that yesterday's trash has become today's treasure.