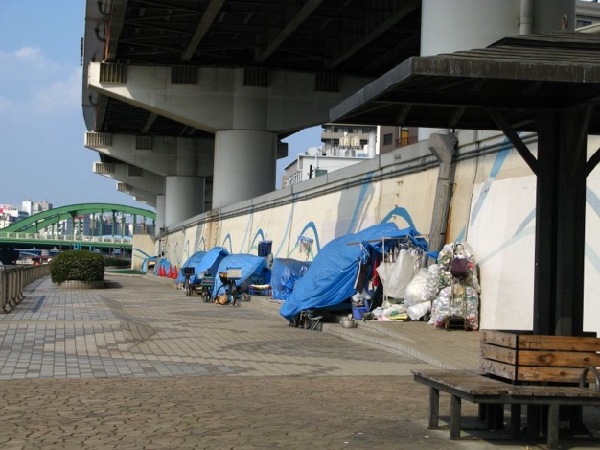 Homelessness
02.09.11
February means finals in Japanese universities. One of my pet peeves is testing that isn't a learning experience itself. (Haven't we all taken, even given, too many of those kind?!?) Hmmm, what kind of a final test would be good for those essay writing classes I teach? This term the focus was on the structure and development of cause-and-effect and argumentative essays, but it's hard for me to get interested in grading papers on contrived or irrelevent topics. Perhaps I'm greedy or idealistic, but I want the mental work of preparing to teach and preparing to write to make a difference for good in both myself and my students. One dark and icy morning triggered an idea.
My kids' school (Christian/International) sends middle and high school students to downtown Tokyo to pass out food, socks, and warm beverages to the homeless who live in and around Ikebukuro station.  The day my daughter went, loaded with sandwiches, rice balls, and sweaters, it was COLD.  Perhaps not unusually so, but the absence of central heating is a bit brutal when both inside and outside temperatures hover near freezing. The other aspect of the cold was the contrast between Tokyo where most everything is clean, on time, and organized, and the increasing number of people who live on the streets with no way to stay clean, nothing to be on time for, and little reason to be organized. They are there in plain view, yet essentially invisible.
In the US, homelessness has been a topic for so long that some people are sick of hearing about it. We're all tired of the pain it represents, but not all are hardened. Many ordinary Americans could tell you not only the way to the nearest shelter or food bank, they may have even volunteered in the recent past. I know of a few groups involved with homeless people here, but haven't done much myself. How about the students in my classes?
Last week we spent the period talking about homelessness and its causes. Did anybody know any homeless people? Seen or talked with any in the recent past? What were their feelings and impressions about homeless people? What causes homelessness? Where could we find accurate information? Was this something that warranted our time in an English writing class at a Japanese university? As I'd suspected, few students had ever encountered homeless people up close, and even fewer had really thought about the problem. None had ever studied it, written about it, or read much about it. Essentially invisible is hardly too strong.
This week they'll have an hour and a half to write a clear and well-organized essay on one of the following topics:
*What are some societal factors which contribute to homelessness in Japan?
*What are some individual factors which contribute to homelessness in Japan?
*Should ordinary citizens be concerned about the rising numbers of homeless people in Japan? Why or why not?
I know it will be harder to grade because of the heavy content no matter how clear the grading rubric. And it was definitely outside of the students' comfort zone to research and think about (although they were all really good sports about it). I'll let you know in a later post whether this experiment seems worth repeating.