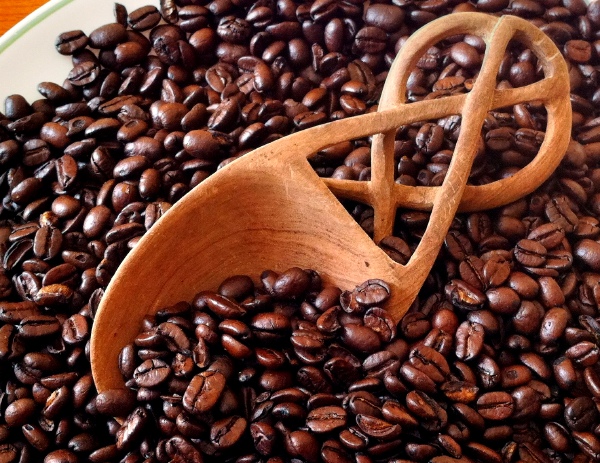 Made For This
11.29.10
This carved wooden spoon from Tanzania was a gift from my parents. I loved the look and feel of the curving intertwined lines of the handle carved from a single solid chunk. Even so, it slept in the kitchen drawer for many years making only occasional appearances. The unfinished wood didn't seem a good fit with anything wet or oily, and since there was only one, it didn't really work for salad either.
Today the spoon found its reason to be. Or perhaps it's better to say I finally realized what it was made for. It's the perfect scoop for morning coffee beans.  One scoop neatly into the grinder and the pungent smell of my favorite roast fills the air. I realized this at 6:10 a.m. with a clarity that I rarely feel even after drinking the coffee. Fumbling around looking for the usual scoop which was nowhere in sight, I grabbed another spoon, but the slick cold metal of the skinny handle slipped and spilled the beans- rats.  Suddenly, the African spoon appeared in my mind. When I tried it, the size was perfect- one gentle scoop on an ordinary morning, a slightly fuller one on a rough morning- and it even tucks perfectly inside the coffee container for storage.  The warmth and weight of the wood fit gently into my hand, solid and earthy, not cold and alien. The colors and textures of the coffee and the spoon seem made for each other, as if the hands which carved the spoon also knew the coffee in all the seasons of its life, not just its current consumption-ready phase.
Parts of me are a lot like that spoon. I've often wondered why I have this or that interest or ability when it doesn't seem there is any natural way to use it.  Don't get me wrong- I don't have so many abilities, as my confession in the multiple intelligence post makes clear. It's just that I tend to have a few interests and abilities that aren't needed for the tasks I spend a lot of my time doing (laundry, dishes, grocery shopping, cooking, reminding kids to put their dirty clothes in the basket…) and am missing a whole lot of abilities (love of detail, organizational skills, satisfaction with routine) that would make these tasks a lot simpler or more satisfying. But at 6:10 this morning, the wooden spoon reminded me of truth.  I spent the day at the university, chuckling under my breath about how lucky I am to have so many enjoyable facets to my life including teaching, family, friends, and the body of Christ here in Japan.
For we are God's handiwork, created in Christ Jesus to do good works, which God prepared in advance for us to do. (Ephesians 2:10)