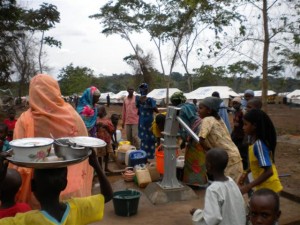 Last night on ABC World News, reporter Terry Moran shared with us how since December a crisis has been brewing in Central African Republic. Click here for his story.  Up to 700,000 people (almost 20% of the population) have had to flee their homes in fear of their lives.  Battle lines are unfortunately being drawn against religious lines. Christians versus Muslims.
Although we are far from this issue by distance, it is still very close.  Covenant missionaries, Roy and Aleta Danforth are living in the middle of this.  They have had a strong ministry to the Fulani people (a semi-nomadic, Muslim Herdsman people group) and are now struggling with how to show them that God really does love them even if some  Christians, animists and atheists have forced them from their homes and murdered their friends and families.
Fearing for their safety, the Danforths' closest Fulani friends have had to flee to Cameroon for safety and are now living in refugee camps.  Faced with the possibility that they may never be able to return to their own homes, they requested for the Danforths to bring them some of their possessions that they had to leave behind.  When the Danforths tried to cross the border, all of the Fulani possessions were removed from their truck and they were not allowed to carry it across and return it to the rightful owners.
Please be in prayer for the Danforths as they try to be the hands and feet of Christ to people who do not yet know him. Pray that peace will return to Central African Republic and that the Fulani will be able to safely return to their homes.
You can follow the Danforths and their work by visiting their blog here.
You can help support the Daforth's work of teaching agricultural skills to local farmers here.