During the summer of 2012, Covenant Camps around the country raised money to go towards helping that Covenant Campgrounds in Santo Domingo, Ecuador.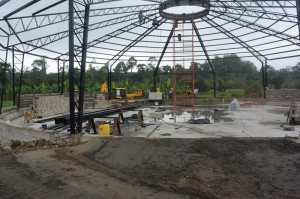 The money raised is helping the camp to build a new main pavilion that is going to hold worship services and conferences. The older pavilion will be transformed into a dining hall. They are also in the process of building a newly renovated kitchen. Progress is being made and everyone is excited to see how God is going to use this camp to impact so many lives! If anyone would like to come down, they would welcome any Merge Teams to help in the construction or provide training or any ways that you would like to help or just come see and enjoy our camp grounds!!!!
Brush up on your Spanish and watch these very brief words of thanks from the camp administrator, Ruben Rocha here.
To see more photos of the camp in transformation, visit the Delplog here.