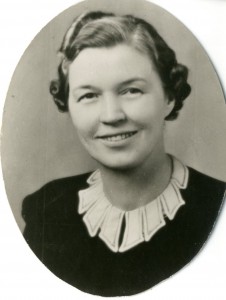 10,869 men, women, and children filtered through Bethesda Hospital Training School between 1939-1940, in Sianyang China, to receive treatment for malaria, fevers, bomb injuries, dysentery, cholera, typhoid, and typhus, by the loving hands of missionary nurses Judith Peterson and Ruth Edlund. Judith wrote,
"At the beginning of the year, our students and head nurses were all with us. Because of repeated air raids and our hospital over-crowded with patients, we had to begin work in the wards and operating room before daylight and continue late in the evening. But all worked cheerfully and a good spirit prevailed.
In March, when our hospital was bombed, our students and women head nurses left for Nanchang. There had been three days of almost persistent bombing in these two cities. One bomb that fell in our compound damaged the nurses' dormitory, making it impossible for anyone to live there.  After a few weeks, they begged to return. The most urgent repairs were made so we could admit patients and have our nurses back again.
We thank God for His protection and care over our hospital staff. It is of Jehovah's loving kindness that we are not consumed, because His compassions fail not. They are new every morning. Great is Thy faithfulness." (Covenant Yearbook 1940-1949, p.67-68).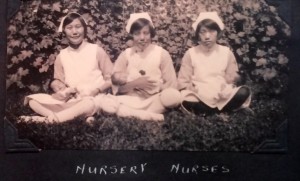 Over the next ten years later, civil unrest forced the missionaries out, but in the Secretary of Foreign Missions Report (1950-1959), the Evangelical Covenant Church proclaimed, "Our hearts are filled with gratitude to God…our  victorious Lord has opened doors, guided us and provided for all our needs in a way far beyond our hopes or expectations. What a privilege it is to follow in the train of the Lord! He has never know defeat! He is eternally victorious! (Covenant Yearbook 1950-1959, p.22)
Traces of God's triumph were easily visible in the city of Kweiting in southwest China, where Judith was relocated. During this time, many Chinese proclaimed faith in Jesus Christ, and four new churches were planted to help them grow in faith. From the very beginning, opposition sought to crush the gospel, but the gospel prevailed.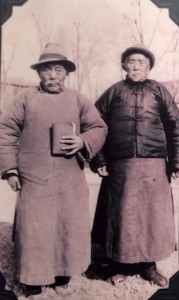 At the beginning of 1949, five Covenant missionaries were stationed in Kweiting. Judith served with Nurse Ruth Edlund and Chinese nurses, Misses Tsai and Wang, in a rented and renovated three-story house (originally a tobacco business gone bankrupt) with twenty hospital beds. Bethesda Hospital officially reopened in April. At the same time, a nearby hall, which became Siangyang Church, was rented for preaching services, and 450 individuals came within two weeks to hear the good news. The collective efforts of our missionary nurses and three missionary pastors saw the fruit of their efforts when 33 adults and 10 children were baptized!  This was a fruitful partnership of intensive medical and church evangelistic efforts.
Yet by September, the American Consul sought the evacuation and return of our missionaries due to the uncertain risk of China's new regime. Though they returned, local Christians continued to faithfully preach the gospel amidst increasing restrictions, trusting that though "the human point of view [for] the future of missions in China seems dark, faith claims the promise of our Lord that the gates of hell shall not prevail against His church." (Covenant Yearbook 1950-1959, p.23)  Eager to continue serving despite the unfavorable civil war conditions in China, our missionaries helped with the Covenant's pioneer mission work in Japan and Taiwan.
The photos in this post are from her scrapbook, highlighting her service in China in the early 1930s. Research and photos are courtesy of the Covenant Archives & Historical Library, and can be seen on display on the third floor of North Park University's Brandel Library.