I Married My Best Friend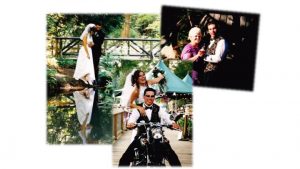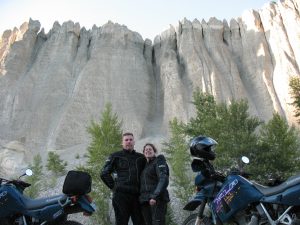 *I know this is a couple of days early, but I feel the need to share this sooner.
We all have a race to run in this life.  In October 1990, my race changed – "Please can I invite my Uncle Max? He's really, really cool.  You'll like him.  Please?  (and he'll like you too)". I'll never forget Brandi pleading to invite her Uncle Max to my party.  Little did I know that a 19 year old, long haired, Uncle would change my life forever.
After seven years of dating, living life together; we finally took that big step and said 'I do'.  Our life before and after marriage was full, absolutely full, of adventure, love, laughter and tears, but the one thing that never changed.  We were each others best friend.  There was nobody I would rather hang out with than Max.  And he made sure I knew that there was nobody he'd rather be with than me.  We worked well together.  From Doxa Pizza to Max's Western Wear and Pony Espresso, to building a house together.  No, more then that.  We loved being together and doing whatever it was – as long as we were together.  We could talk about anything or we could sit in silence; either way; I fell in love with Max all over again, deeper in love, every day.  Max pushed me beyond my comfort zone so many times.  I learned so much from him, and I am thankful for those pushes.  I have endless stories to tell.  I have knowledge that I am sure I'll use again one day.  I know about Diesel engines, I know how to operate machinery and tools, I know how to embrace the adventures of life.
Max loved to say that 'the honeymoon never ends'.  And it didn't.  Even through tough times, Max loved, he smiled, he laughed, he shared his humour and zaniness.  I was spoiled, treated like a queen.  When I worked in offices, I would find random lattes and muffins or a treat on my desk that he had dropped off on his way by.  Any day was a special day for a bouquet of flowers.  I loved making meals for him to pack to the oil rig.  I loved hiding notes in his stuff that he could find when he was working, or out in the middle of nowhere with no cell service.
We got to travel.  For vacations and more importantly with a purpose.  We camped, we roughed it, we rode klrs together over mountain passes and what I called goat trails. We worked, we studied, we supported each other. We spent our last two years together every day.  I am thankful for this.  I am grateful that Max chose me to life his life with.  I am thankful to have had those moments when I would have preferred he call one of his guy friends, but he chose me, he wanted me to do that work with him. We were a team.  We were on the same page you could say.  Things just flowed and happened; we knew what needed to be done or what was wanted.  A good friend once told us that we had our own language.
I miss my best friend and I would give anything to have him here with me.  We were supposed to grow old together, take more road trips on the bikes, chase each other around the house when we were 80.  Over the course of 27 years, my race became Max's race and his race became mine.  We ran together, full speed ahead. And now, I continue to run this race; without him. It's not always fun, or easy. There's no zaniness; but yes, there is still adventure. I've had my doubts; doubts about the course of the race, doubts about finishing this race. But I accept the baton that has been passed to me.  I will finish, I will see Max again one day.  And together, we will have even more stories to share.  So for now, he's with me in my heart and soul, and I know he's ahead waiting.
Friends, don't take things for granted.  Do the silly stuff together.  Have fun together.  Don't get worked up over the little things that really aren't going to matter five years down the road.  Make that decision to be each others best friend.  Say I love you more, ask about the garbage being taken out less. Do something unexpected for your spouse, for no other reason then to show your love, the only reason –  'just because'