I mentioned a few weeks ago that I was given the blessed task of giving the Ecuadorian Evangelical Covenant Church's offices a face lift and I wanted to show off…er… show you the semi-final results! The main walls have been painted a calming "Perfect Greige" with lighter and darker shades in various walls and different offices. Lots of prayer went into the picking of the paint and God answered and the colors really are welcoming and professional which was the goal! Here are some pictures!
Below is the hallway. The windows were already trimmed with a black so we maintained that color scheme throughout.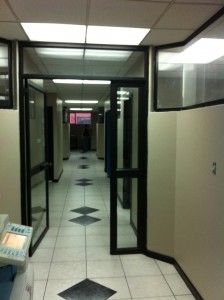 Josh shares an office with the president of the denomination and this is their office. I did one wall a bit darker for dramatic effect.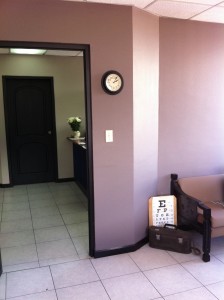 This is my favorite view in all the office: my guapo.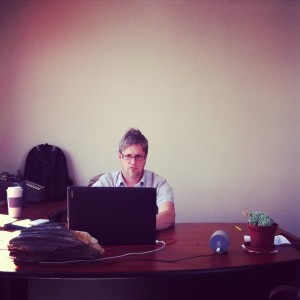 Below is the reception area, I'm especially pleased with the borrowed decor… the tall dark handsome cabinet, cool globe and old green leather satchel are all borrowed from various nooks and crannies around the offices. This little lady is Martha the secretary. I think we'd fall apart without her expertise.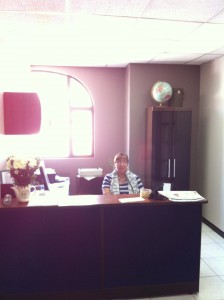 All for now! Just a fun taste of the new look around the offices! It's been fun to see the transformation and to serve the church in this way!